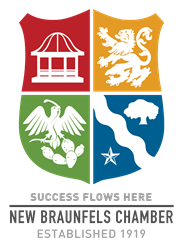 NEW BRAUNFELS, Texas (PRWEB) August 27, 2020
This year's 54th Texas Legislative Conference hosted by the Greater New Braunfels Chamber of Commerce will be held September 3rd and 8th through the 18th. The event includes a Texan of the Year Dinner on Thursday evening honoring Apollo 16 Charles Duke at the New Braunfels Convention Center and a series of online panel discussions throughout the following weeks.
The culmination of the Conference will be a featured panel, The Future of Space Exploration, and - will include three former astronauts and the Apollo Flight Director. Panelists are:

Brig. Gen. Charles Duke, Apollo 16 Lunar Module Pilot, Apollo 11 Capcom and 2020 Texan of the Year
Daniel Brandenstein who piloted one Space Shuttle mission and commanded three others, including the maiden flight of Endeavour, and later served as chief of the Astronaut Office and United Space Alliance Executive Vice President and COO
Tom Henricks, Former Astronaut and Former President of Aviation Week
Moderator: Gerry Griffin, Flight Director for all Apollo manned missions and former Director of the Johnson Space Center
The featured panel will be preceded by three other high-profile panels: The Role of Science in Our Economy, Future Infrastructure Solutions for Texas, and Census 2020: Impact on Future Elections & Funding.
Confirmed panelists include Senator Kelly Hancock, Senate Transportation Committee Vice Chair; State Representative Ray Lopez; Texas Tribune Executive Editor & Co-Founder Ross Ramsey; Cancer Prevention and Research Institute of Texas CEO Wayne Roberts; Texas A&M University System Vice Chancellor for Research Jon Mogford; Texas Health and Biosciences Institute CEO Tom Kowalski; Executive Director of the Texas Department of Transportation James Bass; and Vice President of Stakeholder Engagement for Texas Central Travis Kelly.
You can find more information about the conference here: TxLegislativeConference.com
About the Greater New Braunfels Chamber of Commerce
The Greater New Braunfels Chamber of Commerce promotes the community and its economy by attracting and supporting local businesses, and protecting the interests of its members and the community. The Chamber brings together community leaders, decision makers, all types of business and industry, individuals, elected officials, and organizations to promote the civic and commercial progress of New Braunfels and the immediate area.
Twitter: https://twitter.com/NBTXChamber
Instagram: https://www.instagram.com/nbtxchamber/
Facebook: https://www.facebook.com/NBTXChamber/
LinkedIn: https://www.linkedin.com/company/nbtxchamber/