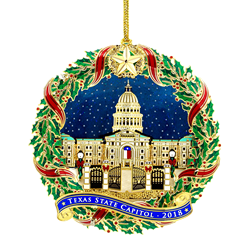 AUSTIN, Texas (PRWEB) September 14, 2018
The Texas State Capitol revealed today its 2018 commemorative holiday ornament which will celebrate the 130th anniversary of the completion and dedication of the Texas Capitol.
Taking more than six years to build, the Lone Star statehouse is a magnificent example of Renaissance Revival architecture. Senator Temple Houston, the youngest son of Sam Houston, accepted the Capitol on behalf of the people of Texas at the dedication in May 1888. This year's ornament was designed to commemorate this special anniversary of the finest building in Texas on the rare occasion of an Austin snowfall, transforming Capitol Square into a winter wonderland. The gates open to welcome visitors to snow-covered grounds underneath a twinkling, star-filled sky. The Capitol is framed by a wreath of Texas Yaupon Holly leaves and berries wrapped in festive red ribbon and topped with a gold Texas Lone Star. The back of the ornament features Temple Houston's famous quote from his speech at the dedication: "Here glitters a structure that shall stand as a sentinel of eternity."
The collectible ornament is delicately designed in-house and made in the U.S.A. Furnished in 24 karat gold and measuring approximately 2.5 inches, the annual ornament is perfect as a holiday gift or to continue a family tradition of collecting. The ornament costs $22 and proceeds benefit the Texas State Capitol preservation and educational programs for its over one million annual visitors. This marks the 23rd ornament in the exclusive series.
The ornament is now available in the Capitol Extension at 1400 N. Congress Ave., or at the Capitol Visitors Center at 112 E. 11th Street, Austin as well as online at http://www.texascapitolgiftshop.com.
About The State Preservation Board
The State Preservation Board preserves and maintains the Texas Capitol, the Capitol Extension, the 1857 General Land Office Building, other designated buildings, their contents and their grounds; preserves and maintains the Texas Governor's Mansion; and operates the Bullock Texas State History Museum and the Texas State Cemetery. We provide educational programs centered on Texas history, government and culture. These services benefit the citizens of Texas and its visitors. For more information, please visit http://www.tspb.texas.gov.