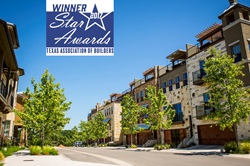 Our vision has always been to provide the Summit at Rivery Park with something very special, and I feel we've delivered with our Texas Brownstones.
Georgetown, Texas (PRWEB) August 15, 2017
Novak Brothers Development won a Texas Association of Builders Star Award, representing excellence in home building, for their Texas Brownstones™ in the category Custom Builder Best Architectural Design of Attached Home with the price range of $500K-$750, at the Sunbelt Builders Show held August 3rd, 2017.
The Brownstone at The Summit is an exclusive development of attached, single-family residences located in the Summit at Rivery Park in Georgetown, Texas. These homes are inspired by classic 19th Century row houses, all designed with native Texas materials and styling. Each home features a rooftop terrace, downstairs garage and customizable living spaces. The Texas Brownstones™ offer convenient access to shopping and dining, 25 miles of hike and bike trails, stunning views of the San Gabriel River and downtown Georgetown, and a range of family-friendly amenities.
Over 500 entries from across the state were submitted for the 2017 TAB Star Awards. Their distinguished panel of industry experts visiting from across the nation spent two days in Austin, Texas for an intense judging period where they reviewed the entries. With more than 100 categories to choose from and hundreds of entries each year, it is an impressive feat to be identified as a finalist, let alone a winner.
Established in 1992, the Star Awards is the only statewide tribute to excellence in the home building industry. In 2005, this remarkable awards program expanded to include projects throughout the Southwest. The 2017 Star Awards showcased the outstanding work of builders, remodelers, architects, designers, sales and marketing professionals, and industry leaders in Texas and the Southwest.
Novak Brothers, developers of The Summit at Rivery Park, a mixed-use community consisting of a Sheraton Destination Resort Hotel, 121 award-winning Brownstones, and 300,000+ square feet of retail and restaurants, specializes in the development of residential and mixed-use communities.
# # #
If you would like more information about this topic, please contact Joy McVean at jmcvean(at)novakbros.com