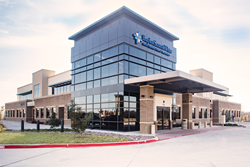 "We're extremely proud of our dedicated project team who put so much of themselves into this project," said Corbett Nichter, AP Regional President. "We are incredibly grateful for the opportunity and recognition, as it highlights our commitment to be a successful national builder."
DALLAS (PRWEB) November 19, 2018
AP was selected in the Health Care 2 ($10-$30M) Category and will be recognized during the TEXO Holiday & Awards Gala on December 6, 2018 at the Hyatt Regency Downtown Dallas along with other companies who have illustrated exceptional qualities during the building process. In addition, this award allows AP to move on to the Annual Excellence in Construction National Level Competition through Associated Builders and Contractors, Inc (ABC).
USPI Southlake Medical Office Building is a two-story 47,000 square foot ground up facility which included the core and shell building, as well as interiors for 80% of the building. The building offers (60) exam rooms and (21) physician offices, an imaging center which includes MRI, CT, Radiology and R/F equipment and open shell space for future tenant build outs.
"We're extremely proud of our dedicated project team who put so much of themselves into this project," said Corbett Nichter, AP Regional President. "We are incredibly grateful for the opportunity and recognition, as it highlights our commitment to be a successful national builder."
The TEXO Distinguished Building Awards embody the skill, commitment and passion that TEXO members have for construction. Winning an award through TEXO automatically qualifies projects for the State and National Award competitions for both ABC and Associated General Contractors of America (AGC).
About Adolfson & Peterson Construction
Adolfson & Peterson Construction (AP) is a U.S.-based, privately held builder that is consistently ranked among the top 50 construction managers and general contractors in the nation. Headquartered in Minneapolis, Minnesota, the company delivers innovative and collaborative building solutions for clients across the country from its regional offices in Dallas, Denver, Minneapolis and Phoenix. Founded in 1946, AP serves clients in the education, healthcare, commercial, municipal, multifamily, hospitality and senior living market sectors. For more information, visit http://www.a-p.com or follow us on Facebook, LinkedIn and Twitter.
About USPI
United Surgical Partners International, Inc. (USPI) is an ambulatory healthcare provider serving more than 2.5 million patients each year and partnering with over 50 not-for-profit health systems nationwide to deliver top tier care to their patients and to help grow their capabilities in the markets they serve. The company currently operates more than 260 ambulatory surgery facilities, 92 urgent care centers and 23 imaging centers. For more information, please visit http://www.uspi.com.
About E4H Architects
Committed exclusively to the design of innovative health facilities, E4H Environments for Health is a national architecture firm focused on improving outcomes through inspired design. Our team of future-focused strategists and visionary health and life science architects create flexible, state-of-the-art facilities designed to enhance the well-being of our clients' patients, staff and families. With more than four decades of experience, we provide value to our clients through the design of LEAN, economically and environmentally sustainable spaces. E4H's unique SmartDesign process fosters collaboration and drives next-generation solutions to complex challenges encountered in today's health landscape. Combining experience with for-profit and non-profit institutions allows us to provide efficient, speed-to-market solutions for our clients.