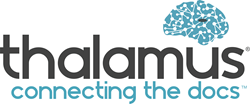 With more than $80 million spent annually on residency application costs, and billions more on travel and hospital administrative expenses, we are confident that this is a marketplace suitable for innovation with a cloud-based solution
SANTA CLARA, Calif. (PRWEB) December 12, 2019
Thalamus, (http://www.thalamusgme.com) a cloud-based SaaS company and creator of the premier platform for hospital residency application and interview management, has secured more than $1.5 million in early-stage funding from a group led by Fresco Capital, 37 Angels, Kapor Capital and Jason Calacanis' LAUNCH Fund. The additional capital will support technology development, sales, and marketing efforts as Thalamus expands its footprint which already includes more than 125 of the country's top teaching medical centers.
Thalamus is the foremost web-based, recruitment management and interview scheduling software specifically designed for application to graduate medical education (GME) training programs. The platform streamlines communication by allowing applicants to self-schedule interviews, eliminating unnecessary phone calls and emails. Thalamus handles all of the confirmations, cancellations, and rescheduling, functioning as a process-specific applicant tracking system saving healthcare institutions months of workflow management.
"We are delighted to receive the support from our investors, as we continue our mission to streamline the application and interview process for applicants and programs," said Jason Reminick, M.D., founder and CEO of Thalamus. "The cost of training and placing doctors in residency programs in the United States is staggering for residents and those costs in time and money ultimately trickle down to affect patient care. A single hospital may spend millions of dollars recruiting residents, while shifting faculty from clinical duties to interview candidates. With more than $80 million spent annually on residency application costs, and billions more on travel and hospital administrative expenses, we are confident that this is a marketplace suitable for innovation with a cloud-based solution."
Thalamus was created in 2013 by Dr. Jason Reminick, then a resident in pediatrics and anesthesiology, and Dr. Suzanne Karan, an anesthesiologist with more than 10 years of experience directing residency programs. The platform has already been proven to significantly reduce costs and increase efficiencies for residents and teaching hospitals engaged in the application process.
Thalamus is currently in use across more than 70 medical specialties at graduate medical education programs throughout the U.S. including Stanford, The Mayo Clinic, Johns Hopkins, Cleveland Clinic, Columbia University, Cornell University, Northwell Health, New York University, University of Pennsylvania, Brigham and Women's Hospital, Massachusetts General Hospital, Yale University, University of California Los Angeles, Duke University, Washington University in St. Louis, and the University of Chicago. Approximately 80 percent of all medical students applying to residency programs are already using Thalamus, including more than 100,000 newly minted physicians since 2013.
"Since we first piloted Thalamus more than five years ago, residency and fellowship applicants have overwhelmingly endorsed the platform for its convenience, allowing them to easily manage their search and interview scheduling process," Dr. Karan said. "At the same time, residency and fellowship program administrators have lauded Thalamus as a significant cost-saving tool with direct benefit to the efficiency of their recruitment processes."
The new investment coincides with the start of the 2020 Residency Application and Match season, administered by the Electronic Residency Application Service (ERAS)/American Association of Medical Colleges (AAMC) and the National Resident Matching Program (NRMP). This process is one of the most important and demanding periods in medical education. In total, the process typically costs medical students an average of more than $10,000 in application and out of pocket fees, as well as travel expenses, according to the American Association of Medical Colleges (AAMC). While teaching hospitals and medical centers spend a median cost of $14,162 in recruiting costs for each NRMP-matched position.
"Thalamus is positioned to be the dominant player in an emerging market for SaaS solutions in the medical administration space," said Stephen Forte, managing partner of Fresco Capital. "Jason and his team have already secured relationships with the best teaching hospitals in the country. We are thrilled to be co-leading this round of capital raising and look forward to their continued growth."
Historically, efforts by the American medical community to improve the residency and fellowship recruitment experience, while reducing administrative costs, have been elusive. Since the development of the NRMP in 1952, the recruitment and match process has remained largely static. A recent study of the residency application process published in The Journal of Graduate Medical Education noted that scheduling interviews and engaging with potential matches in a time-sensitive manner creates "a cumbersome and labor-intensive step for the residency staff, which is associated with long delays in interview date confirmation after preferences are sent by applicants."
"Thalamus is developing and deploying technology to create new ways for teaching hospitals and residents to connect with each other" said Angela Lee, founder and CEO of 37 Angels. "We applaud their novel approach to simplifying this entire process and are proud to be among the first investors to validate their bold strategic vision."
About Thalamus
Established in December 2013 and based in Santa Clara, California, Thalamus was created through a grassroots collaboration of program directors, program coordinators and applicants/medical students to address the inefficiencies in the residency and fellowship application and interview process. Founded by a pediatrics-anesthesiology resident and an anesthesiology residency program director, Thalamus provides a comprehensive online interview reservation and travel experience via a real-time scheduling system – online and mobile. For more on Thalamus, please visit https://thalamusgme.com/ or connect with us on LinkedIn, YouTube, Facebook or Twitter