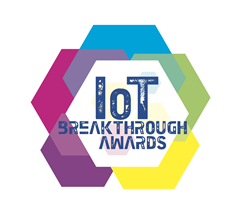 "The Thales Connected Embedded Secure Element is a true connectivity breakthrough, promising to make compelling ultra-flat device design possible, while introducing state-of-the-art security applications and driving down the build price for vendors"
LOS ANGELES (PRWEB) January 13, 2021
IoT Breakthrough, a leading market intelligence organization that recognizes the top companies, technologies and products in the global Internet-of-Things (IoT) market, today announced that Thales has been selected as the winner of the "IoT Semiconductor Product of the Year" award in the 5th annual IoT Breakthrough Awards for its Connected Embedded Secure Element (CeSE). Thales, a global technology leader, was recognized for its outstanding innovation in secure mobile connectivity.
The Connected eSE is the combination of an embedded Secure Element (eSE) and an embedded SIM (eSIM) in a single security chip, allowing to reduce the number of components in devices such as smartphones and smartwatches. This unique innovation – embedded in Samsung S20 series - brings a state-of-the-art security level to any NFC service deployed in the connected eSE. It is the world's first commercialized secure single-chip solution to support both eSIM-based mobile connectivity and eSE-based NFC multi-application security and authentication services. Thales is also the first company to be fully certified for this new generation of products by trade body GSMA.
The eSE is a secure, tamper-resistant chip that securely stores applications and their cryptographic data in order to facilitate transaction authentication and security. It allows to secure a wide range of applications in any device and various use cases: payment, couponing, transit ticketing, access control, corporate, cloud computing, digital ID. eSIM remotely provisions and manages mobile network operator subscriptions –via eSIM management.
"The Thales Connected Embedded Secure Element is a true connectivity breakthrough, promising to make compelling ultra-flat device design possible, while introducing state-of-the-art security applications and driving down the build price for vendors," said James Johnson, managing director at IoT Breakthrough. "We want to recognize Thales with our 'IoT Semiconductor Product of the Year' award for 2021 and look forward to further innovation in the next year."
The mission of the IoT Breakthrough Awards program is to recognize the innovators, leaders and visionaries from around the globe in a range of IoT categories, including Industrial and Enterprise IoT, Smart City technology, Connected Home and Home Automation, Connected Car, and many more. This year's program attracted more than 3,850 nominations from companies all over the world.
"Space optimization in the design of smartphone and wearable devices is becoming instrumental when integrating new features. On top of this, this technology will also help vendors streamline inventory and manufacturing processes," said Emmanuel Unguran, Senior Vice President for Mobile Connectivity Solutions at Thales. "It is the first time a miniaturized all-in-one secure chip with combined features is embedded in a commercialized smartphone and we are pleased to accept this award from IoT Breakthrough in recognition of our hard work and commitment to driving the future of secure connectivity."
About Thales
Thales (Euronext Paris: HO) is a global technology leader shaping the world of tomorrow today. The Group provides solutions, services and products to customers in the aeronautics, space, transport, digital identity and security, and defense markets. With 83,000 employees in 68 countries, Thales generated sales of €19 billion in 2019 (on a pro forma basis including Gemalto over 12 months).
Thales is investing in particular in digital innovations — connectivity, Big Data, artificial intelligence and cybersecurity — technologies that support businesses, organizations and governments in their decisive moments.
About IoT Breakthrough
Part of the Tech Breakthrough, a leading market intelligence and recognition platform for global technology innovation and leadership, the IoT Breakthrough Awards program is devoted to honoring excellence in Internet-of-Things technologies, services, companies and products. The IoT Breakthrough Awards program provides a forum for public recognition around the achievements of IoT companies and products in categories including Connected Home and Home Automation, Connected Car, Industrial IoT (IIoT) and Smart City, Consumer IoT and more. For more information visit IoTBreakthrough.com.