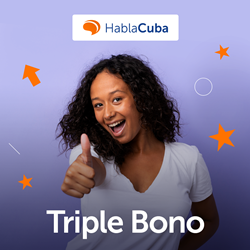 ATLANTA (PRWEB) November 23, 2020
2020 doesn't seem to make a good pair with gratitude or feeling thankful. However, on a closer look, people realized that besides the multiple challenges this year threw in front of humanity, it also taught us some great lessons it would be helpful to interiorize for the years to come: appreciating the little things in life, the power of human connection, humanity's resilience.
To celebrate this and in order to help Cubans through these difficult times, HablaCuba.com launches a new promotion. Starting November 23 until November 28, Cuban expats who want to support their family and friends back home now get the chance to make the best of their investments: recharges between 20-80 CUC get a bonus, as follows:
20 CUC - 40 CUC Bonus
25 CUC - 40 CUC Bonus
30 CUC - 40 CUC Bonus
40 CUC - 80 CUC Bonus
50 CUC - 80 CUC Bonus
60 CUC - 120 CUC Bonus
75 CUC - 120 CUC Bonus
80 CUC - 160 CUC Bonus
But Cubacel has set in place some restrictrictions when it comes to how to use the amount, differentiating between the main balance and the bonus - Bono Dinero. For starters, the bonus expires 30 days after the top up is received in Cuba, whereas the main balance keeps the same validity as previous promos, that is 330 days from the recharge date. In addition to this, the Cubans who receive the top up should also pay attention to the way they want to spend the money wisely, because they can use the amount received both to purchase 3G packages, in case they have a compatible device, and talk and text in Cuba and abroad.
The entire amount (main balance and Bono Dinero) can be used for:
National and international calls
National and international texts (including SMS entumóvil)
ONLY THE MAIN BALANCE transferred can be used for purchasing 3G plans:
400 MB for 5 CUC
600 MB for 7 CUC
1 GB for 10 CUC
2.5 GB for 20 CUC
4 GB for 30 CUC
To activate the mobile internet plans, the recipient must enter the USSD code *133# and then dial 1 (data).
Besides sending top ups, customers can also recharge their family's and friends' Nauta accounts, in order to help them gain access to the internet. Or, if they prefer calling, they can also use HablaCuba.com's calling services.
Customers can place their calls:
From any landline, mobile or even payphone in the world, through access numbers.
Through the smartphone app called KeepCalling, available for iOS and Android.
All services HablaCuba.com offers revolve around the website's mission, which is to bring people together, no matter the distance, no distance is too long if people stay connected.
About HablaCuba.com
HablaCuba.com is an interactive website designed by KeepCalling, a global telecommunications company registered in 2002 in the USA. Presently, KeepCalling provides its services to hundreds of thousands of consumers, with a focus on customer satisfaction. KeepCalling has been listed by Inc 5000 as one of the fastest growing companies in the USA for 5 consecutive years. In 2015 the company registered a revenue increase of over 200% from 2011 to 2014.