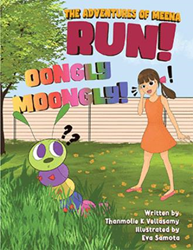 SINGAPORE (PRWEB) January 05, 2023
A charming friendship blossoms between a little girl and a caterpillar. But can she protect him as he crawls from one danger to another? Author Thanmolie K Vellasamy invites young readers to find out in "Run! Oongly Moongly!" (published by Partridge Singapore).
Eleven-year-old Meena is having breakfast in the garden when a little caterpillar suddenly appears, looking lonely and scared. She decides to name it Oongly Moongly and help it find a new home. She goes to all extents to save Oongly Moongly from the dangers he faces in his new environment.
"Run! Oongly Moongly!" is an adorable story of friendship, trust, responsibility, empowerment and transformation. The simple storytelling combined with colorful illustrations trigger the children's creativity and imagination, as well as their self-awareness on how to handle challenges, conflicts and resolutions. It also highlights the value of caring for all kinds of animals and embracing differences regardless of appearance, color or gender.
"We all know that children undergo many changes, in their physical, emotional and mental dimensions. They also experience and assimilate the world and their own physical environments very differently from adults. Adults must remember that the world that children experience is very different from the world that we perceive. This book offers a pathway to enter into the children's world and to reach out to them on the core values of trust, friendship, responsibility and care for nature," the author states.
Visit https://www.partridgepublishing.com/en-sg/bookstore/bookdetails/831405-run-oongly-moongly to get a copy.
"Run! Oongly Moongly!"
By Thanmolie K Vellasamy
Hardcover | 8.5 x 11in | 36 pages | ISBN 9781543767773
Softcover | 8.5 x 11in | 36 pages | ISBN 9781543767780
E-Book | 36 pages | ISBN 9781543767797
Available at Amazon and Barnes & Noble
About the Author
Thanmolie K Vellasamy was an educator and teacher for 37 years before being called to her passion of children's publishing. She is vibrantly imaginative yet with disciplined practicality; spontaneous yet meticulous; wildly artistic yet a systemic multi-tasker. She is renowned for her expert use of visual, auditory, hands-on, reading and writing techniques. An avid nature lover, she has uplifted the self-awareness of countless students through contact with nature and discovering the marvels of the here and now. Embracing life with a child's curiosity and love for learning, she nurtures, inspires and empowers young people through her writing. She excels in making clay flowers and figurines, baking, gardening and habitually far exceeding her trainers' expectations in the many self-development courses that she partakes in with zest. Spirited, vivacious and perfectionist in all that she does, Vellasamy radiates that same spirit and vision to her readers and students, transforming learning into a joyous journey of discovery.
Partridge Publishing, an imprint of Author Solutions, LLC, aims to help writers in Singapore, Malaysia, India and Southern Africa become published authors. Partridge gives authors in these region direct access to a comprehensive range of expert publishing services that meet industry standards but are more accessible to the market. For more information or to publish a book, visit partridgepublishing.com or call +65 3165 7531 (Singapore), +60 3 3099 4412 (Malaysia), 800014971 (Africa) or 000 800 919 0634 (India).