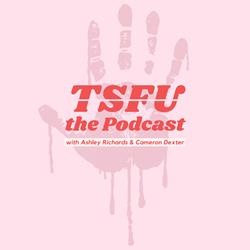 It's not a cult, it's just a podcast... but really it's a cult.
DENVER, CO (PRWEB) April 30, 2021
That's So F*cked Up, a weekly true crime comedy podcast about cults, murder and other generally f****d up stuff, features podcasters Ashley Richards and Cameron Dexter as they share shocking details from both well-known murder cases such as the mysterious murder of JonBenét Ramsey, to obscure cults such as the Ant Hill Kids, and the occasional stories of aliens and man-eating sharks. Recently, the team interviewed former FBI Special Agent Bryanna Fox about the difference between psychopaths and sociopaths.
With a mix of comedy and thorough research, Ashley and Cam bring unforgettable stories like these to life for their devoted listeners, as they explore what inspires people to do the f****d-up things they do. The team's hands-on look at true crime combines 'F*cked-Up Bingo', which listeners can play at home, with compelling personal interviews and a fresh look into some of the hottest cases, from Elisa Lam's disappearance at the Cecil Hotel to the biblical UFO cult Heaven's Gate, where the duo interviewed world renowned cult expert Janja Lalich, Ph.D..
Podcast creator Ashley Richards is the producer and host of That's So F*cked Up. She earned a BA in Broadcasting and Electronic Communication Arts from San Francisco State University, with an emphasis in podcasting. Today Ashley lives in Boulder County, CO. and when she isn't immersing herself in true crime she enjoys winding down with bad romance reality shows and eating too much sugar.
"Podcasting is one of the most intimate and accessible mediums available to share stories that shock, entertain, inform and inspire us," said Ashley Richards, founder, That's So F*cked Up. "Over the last year, as many of us were missing friends and family during the pandemic, coming together to better understand our world has taken on more meaning than ever before. I am so glad to be a part of the community we have created and honored that so many people listen, share and support our podcast."
Cameron Holly Dexter is the co-host and co-producer of That's So F*cked Up. She grew up in the wild and rural area of northern New Hampshire. Her love for true crime took root in college as a journalism major, where she wrote her senior thesis on the murders of Liko Kenney and Bruce McKay. She was particularly drawn to the Maura Murray disappearance case, as her childhood home sits just ten miles away. After moving to Los Angeles to pursue a career in film, she began listening to true crime podcasts and was hooked. Dexter's film projects have been screened at prestigious festivals including Sundance, Tribeca and SXSW.
That's So F*cked Up connects its Patreon supporters with industry insiders, professional sleuths, authors and experts. A recent Patreon exclusive interview with Janja Lalich, Ph.D. detailed her specialty: cults and extremist groups, with a focus on charismatic relationships, political and other social movements; as well as ideology and social control, and issues of gender and sexuality. Patrons can also access the That's So F*cked Up community's True Crime Book and Documentary Clubs, as well as early-release and ad-free podcast episodes.
Learn more: https://tsfuthepodcast.com
Support: https://www.patreon.com/TSFU
Contact: tsfuthepodcast@gmail.com