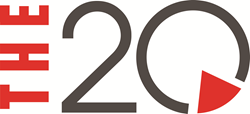 Dallas, Texas (PRWEB) July 31, 2017
The 20 Vision Conference was held in Dallas, Texas at The W Hotel to educate and connect with member MSPs of The 20 and valued sponsor partners. The two-day event occurred July 13 – 14, 2017, and focused on the vision, education, and growth of their membership, as well as celebrated successes that occurred throughout the year. The schedule included keynote speeches and live demo sessions from sponsors Kaseya, IT Glue, ConnectBooster, and Clarity Advisory Group. The first day ended with, 'AMPED', a rooftop party celebration sponsored exclusively by leading VoIP provider, Cytracom.
The 20 is a best-in-class business development group for MSPs whose concentration on lead generation, a unique sales model, and scalability has made a noticeable impact in the IT industry. "The difference between success and a dream is execution," said CEO, Tim Conkle in the opening remarks, "so the goal has to not only be to visualize your goals, but to execute on them to create a future for your business." He later highlighted member MSPs of The 20 who were ranked on this year's MSP Mentor 501 'Top Ranked MSPs' Global List, and were recognized as top managed service providers -- a testament to the success and strength of the group.
The conference provided technical training and exclusive offerings for members of The 20, and delivered knowledge on how to maximize the tools that have been standardized within the group. The schedule also included sessions on lead generation, sales, and scale, and informative speeches from industry leaders and experts. Fred Voccola, CEO of Kaseya, joined Tim Conkle on stage to provide insights and discuss the road ahead with an emphasis on cyber-security. Sales training expert, John Barrows, provided a full-scale view of effective selling and documentation techniques that lead to successful growth. Rob Boles, President of Blokworx, provided a comprehensive scope of internet and mobile security, and the future of data protection.
Kirk Feathers, VP of Global Product Enablement of Kaseya, lead several sessions on both days, providing education on their products, and decorated lawyer, Dan Astin, gave members insight on how to craft the proper contracts to protect their business and clients. The conference was closed out with an awards ceremony where members were recognized for their achievements in referrals, business development, and leadership. Andrew Sharicz of Agnostic Technologies received 'The Connector' Award, Chris Traxler of Cirrus Technologies received 'The TrailBlazer' Award, and John Rutkowski of BOLDER Designs received 'The Ambassador' Award. The next date for The 20 Vision Conference is scheduled for July 19th and 20th, 2018.