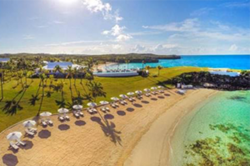 Indianapolis, Indiana (PRWEB) May 02, 2016
The Cove Resort in Gregory Town
This is an easy 30 minute transfer to the dock where Bullseye Bonefishing will pick you up.
The Cove, Eleuthera is a Bahamian island legend, reborn with more style, more luxury and far fewer cares in the world. The new and transformed Cove Eleuthera is a breathtaking island retreat. An intimate destination on the Caribbean's most beautiful pink sand beach, all villas, guest rooms and suites blend urban chic with island charm. Sitting on 40 lush acres offering direct access to the turquoise blue waters of the Caribbean, The Cove offers an authentic Bahamian island retreat
"Bullseye Bonefishing will provide a shuttle to the Spanish Wells dock where I will meet you in our brand new Bossman Flats Boat," said Guide Shaw Underwood. Bullseye Bonefishing guests staying at The Cove Eleuthera will experience quite possible the nicest resort in all of the Bahamas. The Cove has earned the reputation as the relaxing playground for Hollywood and music industry superstars, you never know who you will see at The Cove Eleuthera
Bullseye Bonefishing luxury Bonefishing travel packages at The Cove Eleuthera include:
·Shuttle to Spanish Wells
·daily lunch on the flats boat,
·round trip airport transfers
Package Options are
·Three nights, two days' private boat charter package
·Four nights, Three days' private boat charter package
·Five nights, four days' private boat charter package
Call one of Bullseye Bonefishing' s customer service specialists today at 317-800-5820 for pricing information or to purchase one of the Bullseye Bonefishing Travel Packages, or visit the Bullseye Bonefishing website. Guide Shaw Underwood can be reached at 242-359-7067
About Bullseye Bonefishing and Shaw Underwood
Born and raised in Spanish Wells Bahamas, 47 years old, Shaw has been diving and fishing since he was 6 years old in these waters in Spanish Wells. Shaw knows these waters as well as he knows the back of his hand. Shaw still lives in Spanish Wells Eleuthera (and loves it) where the waters are clear and beautiful and great for Fishing. "I have been told by clients that I have an incredible ability to sight bonefish in the turtle grass, this proves very beneficial when I take you fishing for the day."
Spanish Wells has been Known as the Fishing community for lobster of all the Bahamas for decades, and now it is getting known for Game Fishing too. By the pictures on the website you can see the Bone Fishing is great and so is the other game fish.
With waters clear and pristine, beautiful beaches and the incredible flats you will love the fishing (Bonefishing) and in relatively unfished waters.
To learn more, visit BullseyeBonefishing.com.