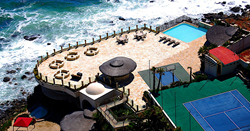 Traditional rehab facilities indoctrinate people - they masquerade propoganda as fact, telling patients addiction is an incurable disease.
Los Angeles, CA (PRWEB) January 23, 2014
The Holistic Sanctuary Addiction Healing Center is experiencing record success rates while turning the world of traditional 12-step recovery on its ear. The long-standing and some say outdated approach to treatment currently practiced in conventional programs, is quickly being supplanted by the "Pouyan Method" of addiction recovery that eschews negative philosophies and focuses instead on positive reinforcement of the body and mind.
"Traditional rehab facilities indoctrinate people – they masquerade propaganda as fact, telling patients addiction is an incurable disease – and compound the problem with untested and dangerous combinations of prescription medications, which account for their 90% failure rate," according to Johnny Tabale (Johnny the Healer), Founder and Director of The Holistic Sanctuary.
New independent research has documented the healing effects of the "Pouyan Method" through state-the-art medical technology, which provides an 'inside the brain' before and after look at the ravaging results of chemical and alcohol dependency, and the rapid healing of patients who undergo the all-natural and holistic healing protocols prescribed at The Holistic Sanctuary.
As stated in The Addiction Recovery Guide, "For the recovering addict, holistic approaches should be accompanied by a professional treatment plan…that can be effective well beyond the initial recovery phase. From detoxification to reducing stress and improving mental and physical well-being, holistic approaches play a vital role in regaining personal balance."
Along with a litany of doctor prescribed medications, traditional 12-step programs depend on an antiquated ritual of 'anonymous openness', where one downloads those portions of their life which they believe triggered their chemical or alcoholic dependency. The success – or failure - rates of such programs, while not 'openly' discussed because of the anonymity factor, are as evident as the evening news.
"Lindsay Lohan recently left jail and entered a drug and alcohol rehabilitation facility. If the scene inspired déjà vu, it wasn't just because it was the fourth time she had headed to rehab in four years. It was because the spectacle of a celebrity entering a drug and alcohol treatment center, relapsing, then heading to rehab again – and again and again – has become depressingly familiar." – Winnepeg Free Press (January 21, 2014)
The Holistic Sanctuary is the home of the exclusive, all-natural and proprietary "Pouyan Method" which enables patients to end a variety of addictions. Unlike traditional drug and alcohol rehabilitation centers, which experience high rates of failure and relapse among patients, The Holistic Sanctuary offers a customized protocol with the amenities of a 5-star resort.
Addictions are stopped without prescription medication OR the use of 12-step programs. And, patients are not classified as having an incurable delivery. Therapies focus on healing the brain, so people can heal their lives!
Click here http://www.johnnythehealer.com for more information about Johnny The Healer and his innovative techniques, founding principles and testimonials from former patients, visit https://www.theholisticsanctuary.com
The Holistic Sanctuary
Attn: Media Relations
info@TheHolisticSanctuary.com
Los Angeles, California
310-601-7805