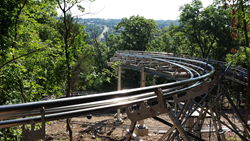 Mountain Coasters allow families to experience nature & thrill rides in a whole new way
Branson, MO (PRWEB) August 04, 2016
The only mountain coaster in Branson has opened its doors to the public today and scheduled a grand opening celebration for August 12th, 2016. Media, Local Entertainers, and the general public are all invited to the Runaway at Branson Mountain Adventure Park to celebrate Branson's newest family attraction and thrill ride.
The Grand Opening Ceremony will feature a ribbon cutting ceremony followed by ceremonial first rides, including a First Public Ride Contest. The general public can enter a sweepstakes to earn the first Public Ride where they will be the first person to ride immediately following the opening ceremonies. The contest can be entered at the Runaway's website, bransonalpinemountaincoaster.com/firstride
The Runaway at Branson Mountain Adventure Park is a mountain coaster designed by Aquatic Development Group. Mountain coasters use the natural terrain and scenery to take the place of the extensive excavation and structure of a traditional roller coaster. In addition to being close to nature the mountain coaster differs from a roller coaster because instead of a train of cars riders go in individual carts. During the course of the downhill ride, the driver has extensive control of the speed of the coaster allowing thrill seekers to experience the full speed and intensity of the ride while others can opt for a more leisurely, scenic experience.
Located on a steep hillside in the Fall Creek area of Branson, the Runaway mountain coaster took terrain that was previously dismissed for most purposes and used it in a non-invasive way to add to a growing number of family attractions that have sprung up in Branson this year. The full ride will be approximately 8 minutes long, features a 330' elevation lift & descent, 4,900 feet of track and two elevated 360 degree corkscrews. From the top of the hill and at various points through the ride guests will have a panoramic view of the western Branson skyline.
Prices for the Runaway will be $15 per driver and $10 per rider, with each able to have a same day re-ride for $10. Single drivers must be at least 9 years old and 52" tall, while double drivers must be at least 16 years old and their passengers must be at least 3 years old and 36" tall.
Branson Mountain Adventure Park is the plan of family friendly and ecofriendly adventures, starting with the Runaway. Located at 935 State Highway 165, Branson, MO 65616, on the web at http://www.bransonalpinemountaincoaster.com or by phone at 1-800-371-7027. The Runaway is open August 4th & 5th at noon and will be open 10 am to 8:00 pm (or until dark) daily thereafter, weather permitting.