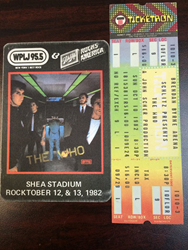 This is one of those shows that the event date is so far away that by the time the show is here there is limited selection and prices have increased which is why we are seeing early steady sales
Riverdale, New Jersey (PRWEB) October 29, 2014
Tickets are available now at SelectATicket.com for all shows on what is shaping up to be the final major tour by The Who.
My Generation, Substitute, Pinball Wizard, Won't Get Fooled Again, Who Are You? – these are just some of the legendary classic rock songs from the extensive catalog belonging to The Who.
Now celebrating 50 years since their humble beginnings in London pubs and small clubs, The Who head out on tour to play in front of thousands of fans in sold out arenas night after night.
With a collection of albums which includes Tommy, Who's Next, Quadrophenia and Who Are You? , there is no shortage of classic rock anthems to be heard when seeing The Who in concert.
The tour will be coming to the United States in 2015 but SelectATicket.com reports tickets are already disappearing for most performances.
"This is one of those shows that the event date is so far away that by the time the show is here there is limited selection and prices have increased which is why we are seeing early steady sales," says SelectATicket.com CEO Tom Patania.
Currently the North American tour consists of two legs, in the Spring they will play 20 shows from April 15 through May 30. The second leg begins September 4 and ends November 4 in Philadelphia with what very well may be the final concert by The Who.
"There are not many chances to see true legends perform. The Who can still rock with the best of them. Still loud, still powerful, still putting everything they have into their live performances. Nobody else can pull these songs off but The Who. For younger fans, this may be the only chance to experience them and for older fans, possibly the final opportunity to enjoy The Who in concert," says Mark Gibbons of SelectATicket.com.
About SelectATicket.com
Selectaticket.com has been providing fantastic experiences and memories with the right tickets at the right price for clients for more than 3 decades. They make ticket buying easy and affordable, as documented by their collection of satisfied customer testimonials. Select-A-Ticket's store is open 7 days a week and tickets may always be purchased through the website at any time, day or night.