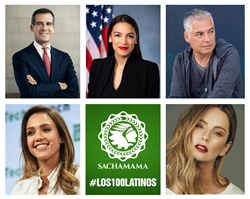 The 100 individuals are recognized and committed personalities in their sector, who promote global awareness about the climate emergency through their work and the need to implement solutions that help us live in balance with our planet
MIAMI (PRWEB) November 11, 2020
The environmental organization Sachamama - known for its work in climate and the environment communications and media campaigns within Latino communities - launched its 2020 list of "The 100 Most Influential Latinos Committed to Climate Action". This initiative seeks to strengthen the leadership of the Latino community in the climate movement and highlight the most influential Ibero-American leaders who have promoted the environmental fight, sustainability, and support climate actions in front of our environmental emergency. This year, CC35 and Sachamama join forces with Forbes to convene the "No Planet B Latino Summit powered by Forbes" which will be broadcast on December 4th at 10:00 am EST, continuing the work begun at the United Nations Framework Convention on Climate Change (COP25) in Madrid. This route is delineated to the COP26 that will take place in Glasgow, UK in late 2021.
The list, carried out with the support of prominent environmental organizations, has highlighted personalities, for their level of commitment in the areas of climate activism, communications, environmental rights, corporate sustainability policies, and the public agenda. It includes executives of recognized companies, high-profile politicians, academics, activists, journalists, Nobel laureates, and entertainment stars such as: Sebastian Navarro – Secretary General of CC35, Marina Colorado - Environmental Reporter France 24, Carolina Schmidt - Minister of the Environment of Chile, Joaquin Phoenix - Actor and Activist, Sônia Guajajara - Indigenous and Environmental Activist, Antonio Luiz Seabra - Chairman of Natura, Antonio Guterres, Secretary General of the United Nations, among others.
The publication of this list is framed within the largest meeting of influential Latinos towards the United Nations Climate Change Conference of 2021 (COP26) to discuss the state of our planet: at the "No Planet B Latino Summit". The objective of the summit is to highlight Ibero-America's leadership in the fight against climate change and exert global pressure towards implementation of the Paris agreement and the sustainable development goals of the 2030 agenda. "The 100 individuals are recognized and committed personalities in their sector, who promote global awareness about the climate emergency through their work and the need to implement solutions that help us live in balance with our planet" explained Carlos Zegarra, Executive Director of Sachamama.
ABOUT SACHAMAMA
Sachamama is one of the nation's leading organizations, dedicated to informing and mobilizing
Latinos to #ActOnClimate (Act for the climate). For more information, visit http://www.sachamama.org
SOCIAL NETWORKS

Join the conversation on social media using the hashtag #Los100Latinos
You can follow Sachamama @sachamamaorg on Twitter, Instagram and Facebook
Contacto:
Carlos Zegarra
c.zegarra@sachamama.org