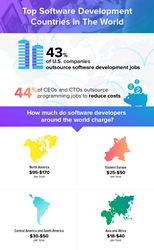 "It's comforting to remember there's a whole world filled with software developers to choose from. With the help of the Internet, brands can partner with a software development firm from anywhere without sacrificing quality." - Gabriel Shaoolian, Founder and CEO of Top Software Development Companies
NEW YORK (PRWEB) May 21, 2019
At least 43 percent of United States-based companies outsource software development projects to experts around the world.
However, each software outsourcing region provides different expertise, pricing structures, and pros and cons. So, how can businesses choose the best software development outsourcing company for their brand needs?
Top Software Development Companies – a B2B website that ranks the leading software development firms by location, expertise, cost and more – determined the top 10 software development countries to outsource projects to in 2019.
Each country was chosen based on its average cost, general skill sets, historically proven expertise, and more.
The top 10 software development outsourcing countries, in alphabetical order, are:
1. China
China's outsourcing market grows 30 percent year-over-year. Software developers in the region are particularly known for development projects in Python, Shell, functional programming, and more.
2. Hungary
Hungary is the fifth best country to outsource to in order to find the best software developers. Their leading software development solutions include building databases, and writing code in Shell, C++ and JAVA.
3. India
What's more? India has the highest number of software developers in the world and is the second-largest English-speaking country in the world. This enables brands to have better collaboration throughout software development projects.
4. The Philippines
The Philippines has over 112,000 IT and engineering graduates each year and has a literacy rate of over 95 percent. This means that software companies here will likely have an easier time seamlessly working with international brands.
5. Poland
Poland belongs to the World Trade Organization, the European Union, the UN, NATO, the Paris Convention, the Berne Convention, the Hague Agreement, the Patent Cooperation Treaty, and the Madrid Protocol, meaning they can safely house and transfer sensitive data that software projects often require.
6. Russia
Russia has 3500 engineers for every one million people. Their leading software development projects include software solutions written in JAVA, C++ and SQL.
7. South Korea
South Korea houses many large-scale tech companies, such as Samsung Electronics, LG Electronics, and Hyundai Motor Company. Software development projects are also more than 50 percent of the country's outsourcing market.
8. Taiwan
Taiwan was one of the first countries that North American professionals outsourced to. Some of their leading software development solutions are algorithms, data structures, functional programming and databases.
9. Ukraine
Eastern Europe has over one million software developers, with 42 percent being based in Poland and Ukraine. Ukraine's leading software projects include security and distributed systems, although there are experts across all areas.
10. Vietnam
Vietnam has a historically strong tech industry. In addition, software developers in the area also incorporate emerging technology such as artificial intelligence and AR/VR.
Read the full report here: https://www.softwaredevelopmentcompany.co/2019/05/10/the-top-10-software-development-countries/
"Many brands don't have the expertise or manpower to execute large software development projects themselves – which is why they need to outsource them to developers who can handle them," says Gabriel Shaoolian, Founder and CEO of Top Software Development Companies. "However, it can be comforting to remember that there's a whole wide world filled with qualified software developers to choose from. With the help of the Internet, brands can partner with a top-rated software development firm from anywhere on the planet without sacrificing quality."
Plus, Top Software Development Companies ranks the best local and global software developers. Brands can explore the top software development companies from around the world that suit their business needs at: softwaredevelopmentcompany.co
About Top Software Development Companies: Top Software Development Companies ranks top-rated software development agencies based on local and global location, average hourly rate, experience, expertise and more.
Brands can find software developers who can grow their brand in areas such as Custom Software Development, Software Development Outsourcing, Enterprise Software Development, eCommerce Software Development, and more.