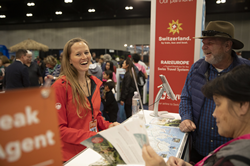 For travel lovers, or even those who are interested in traveling for the first time, this is the perfect place to find your next vacation destination and book a trip for a price you won't find anywhere else
LOS ANGELES (PRWEB) November 27, 2019
Discover the world in one weekend as the Travel & Adventure Show announces its return to the Los Angeles Convention Center on February 15th and 16th, 2020. The nation's largest travel show will help anyone looking to find, plan, and book their next vacation, discovering thousands of travel adventures.
Destination experts will be on-hand to help travelers explore domestic and international getaways, luxurious cruises, adventurous escapes and much more with exclusive travel discounts only offered at the show. Travel enthusiasts will have the opportunity to meet face-to-face with thousands of travel experts and personalize their next adventure.
Attendees will have the opportunity to meet and gain inspiration from the world's top travel experts and celebrities, as they present seminars and answer questions over the two-day event. At the Travel Theater they will meet:

Samantha Brown, Host, Samantha Brown's Places to Love on PBS
Rick Steves, Travel Writer, Host of Rick Steves' Europe and Travel with Rick Steves
Pauline Frommer, Editorial Director of the Frommer Guides and Publisher of Frommers.com
Peter Greenberg, Emmy Award-Winning Investigative Reporter and Producer and CBS News Travel Editor
Kellee Edwards, Adventure Travel Expert and TV Host of Kelle Set Go!
From Alaska to Florida, Europe to Asia and the South Pacific, attendees will find great travel options at the Travel & Adventure Show from the show's top sponsors including MSC Cruises, South African Tourism, Cook Islands Tourism and Switzerland Tourism, among others.
"At the Travel & Adventure Show, not only do we bring representatives from the world's top travel brands directly to you, but also we create an unforgettable experience as you engage with different cultures and gain valuable insight from celebrity travel-experts," said John Golicz, CEO of Unicomm, LLC, the producer of the Travel & Adventure Show Series. "For travel lovers, or even those who are interested in traveling for the first time, this is the perfect place to find your next vacation destination and book a trip for a price you won't find anywhere else."
Guests can get their picture taken in their favorite destination at the Visit Billings Montana Green Screen and even experience exploring national parks through sound with ParkTracks at the Find Your Park booth.
Included in the price of admission is the U.S. Passport, TSA Pre and Global Entry Acceptance Program, where the U.S. State Department and Passport Agency will be accepting new passport applications, renewing passports, and even taking passport photos on site. In addition to passport acceptance, this area will also feature Global Entry Program appointments, taking place right on the show floor. Included in the price of admission will also be the ability to enroll for TSA Pre.
Experts will also be available at multiple stages providing travel tips.

At the Savvy Traveler Theater stage, visitors will interact with travel experts on subjects ranging from packing and travel technology, to maximizing credit card reward points and what to do if disaster strikes while traveling.
At the Destination Theater, travelers will receive destination-specific information from local experts containing information on when to go, how to get there, what to see, and off-the-beaten-path attractions from destinations like Alaska, Arizona, Switzerland, and Mongolia, among others.
At the Global Beats Stage, attendees can feel the beat and experience the rhythm of cultural dances and performances during more than 20 presentations throughout the weekend.
The LA Travel & Adventure Show will take place on February 15th and 16th at the LA Convention Center. The show opens at 9:30 a.m. Saturday for travel professionals; the public can attend from 10 a.m. to 5 p.m. Saturday and from 10 a.m. to 5 p.m. on Sunday. Attendees can purchase single-day and two-day tickets online now for the discounted rate of $12/$19 or on-site for $15/$22. Children 16 and under are free and on-site tickets can be purchased with cash only. For tickets and event information, visit http://latravelshow.com and use promo cove LAPR20 to receive $11 tickets.
About Unicomm, LLC and the Travel & Adventure Show Series
UNICOMM LLC is an independent business-to-business communications company specializing in originating and managing world-class trade shows and conferences. Unicomm's properties include the nation's largest and longest running series of travel events, the Travel & Adventure Show in Washington, D.C., Chicago, San Francisco/Bay Area, Los Angeles, San Diego, Denver, Philadelphia, Dallas, Boston and Atlanta which is new in 2020.