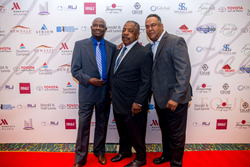 "I'm truly honored and humbled to receive the 2018 Calvin Peete Award. This award has so much meaning to me and my family. Growing the game for diversity was always a mission of Mr. Peete's, and it is now a path to follow and a personal mission of mine" says PGA TOUR Star, Cameron Champ
ATLANTA (PRWEB) November 01, 2018
The Calvin Peete Foundation hosted its' 7th Annual Calvin Peete Awards Weekend presented by TOYOTA in Atlanta GA on October 6th and 7th. The highly anticipated event honored and celebrated the life of Calvin Peete and his achievements on the PGA Tour as an African American man achieving greatness while inspiring the future of the game. The annual event honors the category winners who encompass the vision, drive and success to impact their respective work industries, making a difference and inspiring those around them to excel.
The event tipped off on Saturday October 6th with a Red Carpet and Gala Presented by TOYOTA, Southern Company and Atrium Hospitality. Celebrities and guests entered the exquisite Marriott Buckhead Atlanta Heritage Ballroom via Red Carpet for a memorable affair with a historical African American Golf Museum display and a special music performance by Jazz sensation, Joey Sommerville. Hosted by Professional Golfer, Women's Golf Advocate and Fashion Designer Seema Sadekar and ABC Atlanta News Reporter, Mark Winne, the evening was filled with specialty food provided by Marriott Buckhead and signature cocktails presented by Tanqueray No. TEN and CIROC.
On the morning of Sunday, October 7th, the historic and remarkable Golf Club of Georgia hosted the Calvin Peete Golf Tournament presented by TOYOTA. The golf experience featured notable celebrities, a TOYOTA Hole In One opportunity, Tanqueray No. TEN Bar and gift bags filled with premium items from PGD Global, Toyota, Tanqueray No. TEN and Nike.
"This such a special event that allows us all of Calvin's dearest friends, family and supporters to come together to celebrate his incredible and deserving achievements. I am thrilled to see the event grow every year," said Warren Barge, Founder of The Calvin Peete Foundation. "I am truly humbled that so many personal friends and supporters come from all over the country to participate so we can continue to build Calvin's legacy and dream, awarding leaders in our community and fuel the future and diversity within the game of golf."
The 2018 Calvin Peete Award Winners included:
Humanitarian Award | Eric Johnson, President & CEO of Baldwin Richardson Food
Entertainment Award | Freddy Cole, Musical Artist
Lifetime Achievement Award | Judge Greg Mathis, District Court Judge & Emmy Award Winner
The Calvin Peete Award | Cameron Champ, PGA TOUR Professional
The highly anticipated Calvin Peete Award was awarded to recent PGA TOUR winner and up and coming star, Cameron Champ. In his ninth start on the PGA TOUR and second as an official member of the TOUR, Cameron won his first PGA TOUR title at the Sanderson Farms Championship. Averaging 343 yards off the tee, Cameron won by four strokes over Corey Conners, highlighted by a 64 in the second round and a strong back 9 on the final day.
"I'm truly honored and humbled to receive the 2018 Calvin Peete Award. This award has so much meaning to me and my family. Growing the game for diversity was always a mission of Mr. Peete's, and it is now a path to follow and a personal mission of mine" says PGA TOUR Star, Cameron Champ of being honored with The Calvin Peete Award.
Cameron has proven his ability and readiness to compete on the highest level on the PGA TOUR. This year's Calvin Peete Award honoree, Cameron Champ is a growing reflection of Mr. Peete in his passion for competition, in his potential for success, and as an African American athlete committed to growing the game of golf on and off the course.
The Calvin Peete Foundation additionally donated a portion of the proceeds to long time partner The Bill Dickey Scholarship Association, where funds will support youth scholarships for education and golf.
For those who would still like to support, please visit http://www.calvinpeetefoundation.org to make a tax deductible contribution.
Media Contact: Diverse Public Media Group | hello(at)diversepublic(dot)com
ABOUT THE CALVIN PEETE FOUNDATION
The Calvin Peete Foundation was formed to support the legacy of professional golfer and legend, Calvin Peete. Peete's passion in life was golf, and as his wonderful career came to a close, he continued to grow and acknowledge diversity and inclusion within the game. Calvin Peete was a man who paved way in the world of golf for African Americans and removed boundaries and stigmas that the game was closed to those who were less fortunate. Peete set a standard of achievement in a world where African Americans were unaccepted and his ability to excel and push through the challenges at the highest level in golf, the PGA TOUR, is acknowledged and lives on through leader-ship and youth development through The Calvin Peete Foundation.
ABOUT PGD GLOBAL
Play Golf Designs, Inc. (PGD Global) is a golf marketing & event company, directing and participating in luxury events for some of the world's most legendary athletes, brands, entertainers and or-organizations including Coach Mike Woodson, Julius Erving, Chris Tucker, Jeffrey Osborne, Viacom, The Broadcasters Foundation of America, Diageo and MGM Resorts International. PGD blends pop culture and entertainment, creating the most unique, innovative golf events and experiences for each client. PGD Global focuses on celebrating diversity and inclusion in golf while welcoming women to the game with open arms. Specializing in connecting golf to the modern world of trends and fashion, PGD Global operates golf and lifestyle events and experiences all around the country, welcoming new golfers and businesses to the game. More info: http://pgdglobal.com/
ABOUT CAMERON CHAMP
Cameron Champ first captured the attention of the golf world with his remarkable talent competing as an amateur at the 2017 U.S. Open, out-driving the entire field and finishing T32 as an amateur. Earning his PGA TOUR card in less than year with his first professional victory and a final Web.com Tour ranking of 6th. Cameron has his sights set high for rookie season on TOUR with an opening season win at The Sanderson Farms Championship. Prior to turning professional, Cameron concluded a solid collegiate career at Texas A&M with one individual title and eight other top-10 finishes (despite sitting out most of his freshman year due to injury). He also posted an exemplary amateur record that included two more individual titles, two Rolex All-American selections, and a spot on the victorious US team at the 2017 Walker Cup. Earlier this year, Cameron received the prestigious Charlie Sifford Memorial Exemption at the Genesis Open, awarded annually to a golfer representing a minority background. Cameron comes from very humble beginnings and learned the game from his grandfather, Mack – an African American who grew up loving the sport as a caddy but was never able to pursue playing it due to racial discrimination in the 1950s. Cameron is a Sacramento, CA native, but lives and plays out of San Antonio, TX.
ABOUT ATRIUM HOSPITALITY
Atrium Hospitality is a leading hotel and asset management company headquartered in Alpharetta, GA. The company oversees a portfolio of 82 hotels in 29 states, licensed primarily through the Marriott, Hilton and Intercontinental brand families. For more information, visit http://www.atriumhospitality.com.
ABOUT MARRIOTT BUCKHEAD
Located in the heart of Atlanta's shopping and restaurant mecca, the Marriott Buckhead offers easy access, a new restaurant, lobby and the first Marriott M Club in Atlanta. Proud home of the Calvin Peete Awards for the 6th straight year. The hotel also was recently featured in ESPN's write up on Atlanta being a top sports town because of how they display College Football's top 10 with golf flags each week.
ABOUT GOLF CLUB OF GEORGIA
The Golf Club of Georgia, one of the most desired private golf clubs in North Atlanta, is home to a pair of the finest courses you can play in the entire state of Georgia. Presently, the Lakeside and Creekside courses are listed among Golf Digest's "Top 20 Best Courses" in Georgia and have maintained this lofty ranking for many years. The courses were originally designed by renowned golf architect Arthur Hills and provide uniquely distinct playing experiences. The Lakeside course (7,017 yards) received immediate acclaim in 1991 when it was named Best New Private Course in the United States. Two years later, the Creekside course (7,039 yards) was created and immediately provided an interesting contrast in playability for members to enjoy. Over the years, The Golf Club of Georgia, located in Alpharetta, has hosted PGA Champions Tour events, the historic Georgia Cup which annually pits the reigning amateur champions from the United States and Great Britain prior to their participation at The Masters, and the yearly Collegiate Championship showcasing some of the finest highly-ranked teams from across the country. The club has also hosted U.S. Open qualifiers, the Georgia Amateur and other Georgia PGA sanctioned events.