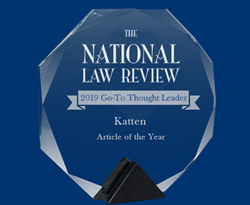 The Go To Thought Leadership Awards Recognize Attorneys Who Identify What Readers Need to Know and Provide a Roadmap as to What to Do
CHICAGO (PRWEB) December 05, 2019
The National Law Review's "Go-To Thought Leadership Awards" recognize 75 exceptional authors in 35 legal practice areas ranging from Art Law to Whistleblower Rights. Award recipients are selected from a pool of over 100,000 legal news articles published by the National Law Review (NLR) in 2019.
According to Jennifer Schaller, the NLR's Managing Director: "The National Law Review's online edition was developed by and for in-house attorneys, so we wanted to recognize thought leaders who identify and sort through the torrent of daily legal news and highlight the developments that require attention, as corporate attorneys tend to be generalists. We also looked for practical guidance that provides a blueprint for action." Per Eilene Spear, the NLR's Operations Manager "We looked for not only relevant and well thought-out legal news, we also considered which articles were reader favorites and that were quoted or cited by other publications and /or syndicated by other media." With the high volume of content that the National Law Review publishes, the selected authors are truly the 'Go-To Thought Leaders' in their legal specialties.
This is the second year the NLR has formally recognized the unique talents of less than 1% of their authors.
Please join us in congratulating the National Law Review's 2019 "Go-To Thought Leader" recipients:
2019's Article of the Year: FCA Announces Launch of Green FinTech Challenge by John Ahern, Carolyn H. Jackson, Nathaniel W. Lalone and Neil Robson of Katten's London Financial Services Group.
«Antitrust Law
Timothy Z. LaComb, MoginRubin LLP
Jennifer M. Oliver, MoginRubin LLP
«Arbitration
Rachel J. Schwartz, Carlton Fields
«Art Law
Jana S. Farmer, Wilson Elser
«Bankruptcy
Lance P. Martin, Ward and Smith, P.A.
«Business of Law
Megan Braverman, Berbay Marketing and PR
Talia Schwartz, Good2BSocial
Melanie Trudeau, Jaffe
«Communications Law
Alan Hearty, Allen Matkins
Sheila Millar, Keller and Heckman LLP
Richard B. Newman, Hinch Newman LLP
«Construction Law
R. Thomas Dunn, Pierce Atwood LLP
«Corporate Law
Evan K Buchberger, Raymond Law Group LLC
Jason M. Halper, Cadwalader
«Cybersecurity Law
Linn F. Freedman, Robinson & Cole LLP
Liisa M. Thomas, Sheppard Mullin
Theodore F. Claypoole, Womble Bond Dickinson (US) LLP
Brian H. Lam, Mintz
Dominic Dhil Panakal, Womble Bond Dickinson (US) LLP
Laura A. Elkayam, Much
Joseph J. Lazzarotti, Jackson Lewis PC
«Employment Law
Laurie Meyer, Davis & Kuelthau, s.c.
Michael S Kun, Epstein Becker & Green, P.C
Tiffany Cox Stacy, Ogletree Deakins
David I. Rosen, Sills Cummis & Gross P.C.
Daniel Pasternak, Squire Patton Boggs (US) LLP
Elizabeth N. Hall, Vedder Price P.C.
Melissa Legault, SquirePatton Boggs (US) LLP
Nathaniel M. Glasser, Epstein Becker & Green, P.C
Jeremy Mittman, Mitchell Silberberg Knupp
Employee Benefits & Exec Comp Practice, Hill Ward Henderson
Jay S. Becker, Giordano, Halleran & Ciesla, P.C
«Energy Law
Tyler N. Ballew, Sherin and Lodgen LLP
Melissa J. Lyon, Steptoe & Johnson PLLC
Susan A. Olenchuk, Van Ness Feldman LLP
Energy Regulatory Practice, Bracewell
«Environmental Law
Lynn Bergeson, Bergeson & Campbell, P.C.
«Family Law
Rebecca K. Wrock, Varnum LLP
«Financial Services Law
London Financial Services, Katten
John L. Culhane, Jr, Ballard Spahr LLP
«Food & Drug Law
Lynn C. Tyler, Barnes & Thornburg
Marc E. Sorini, McDermott Will & Emery
Domenic B. Sanginiti, Jr, Stark & Stark
«Government Contracts
Jack Blum, Polsinelli PC
Connie N. Bertram, Polsinelli PC
«Health Law
Daniel S. Zinsmaster, Dinsmore & Shohl LLP
Ryan T. Siehr, von Briesen & Roper, S.C.
«Immigration Law
Kristen Ng, Greenberg & Traurig LLP
Susan J. Cohen, Mintz
Amy Peck, Jackson Lewis PC
«Insurance Law
Alex B. Silverman, Carlton Fields
Jenna Hudson, Gilbert LLP
«Intellectual Property
Howard Michael, Brinks Gilson & Lione
Patent Litigation, Schwegman, Lundberg & Woessner
«Litigation
Lawrence I Weinstein, Proskauer Rose LLP
Lori Lustrin, Bilzin Sumberg
Jeffrey D. Neuburger, Proskauer Rose LLP
Tadhg A.J. Dooley, Wiggin and Dana LLP
David Roth, Wiggin and Dana LLP
Teresa Barber, IMS ExpertServices
«Maritime Law
Maritime Litigation, Jones Walker LLP
«Product Liability
Ryan J Carra, Beveridge & Diamond PC
Mike Gentine, Schiff Hardin LLP
«Real Estate
Michael P. Ripp, Ryley Carlock & Applewhite
«Securities Law
Mary P. Hansen, Drinker Biddle
«Sports Law
Gregg E. Clifton, Jackson Lewis PC
«Tax Law
Mary Burke Baker, K&L Gates LLP
Adam J. Tejeda, K&L Gates LLP
Samantha K. Breslow, Horwood Marcus & Berk Chtd
Edward Dartley, K&L Gates LLP
«Trade Regulation
Susan Kohn Ross, Mitchell Silberberg Knupp
Douglas J. Heffner, Drinker Biddle
«Transportation Law
Christopher R. Boll, Foley & Lardner LLP
«Tribal Law
Brian Pierson, Godfrey & Kahn S.C.
«Whistleblower Law
Jason Zuckerman, Zuckerman Law
The National Law Review is a daily legal news website with a mission to provide objective and practical news and analysis. The NLR is women-owned and is the online descendant of a legal publication that traces its roots back to 1888. With the talents of our own writers and contributing authors, the National Law Review has grown to one of the highest volume business law publications in the U.S. more than doubling our traffic volume in the last year alone. Visit us at http://www.NatLawReview.com