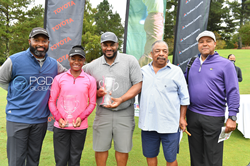 "We want to continue to honor Calvin Peete while golf is still a promising activity for people to move around," said Nisha Sadekar, President & CEO of PGD Global. "We are ensuring the safety of our guests and staff first with mandated safety guidelines so the day is enjoyable for all."
ATLANTA (PRWEB) October 28, 2020
The Calvin Peete Foundation hosted its' 9th annual Calvin Peete Awards & Golf Tournament presented by TOYOTA and produced by PGD Global on October 12, 2020 in Atlanta, Georgia. The annual weekend celebrates the life of Calvin Peete and his achievements in golf and on the PGA TOUR as an African American man who achieved greatness amongst many of the "coined greats". While breaking unimaginable records with his performance, his presence broke barriers as he excelled against all odds.
The 2020 Calvin Peete Awards presented by TOYOTA announced Jerome Bettis, NFL Hall of Fame Legend, with the Calvin Peete Award, encompassing the vision, drive and success in impacting the Greater Atlanta community, inspiring those around them to excel. The Calvin Peete Junior Award was presented to Ariel Collins, US Kids Junior Girls World Champion, for her success and promise in junior golf as a dedicated young woman of the game.
Guests arrived at the golf venue and were greeted safely with a drive-up check-in and gifting experience. Custom Calvin Peete Masks were given to all guests to wear for safety measures throughout the day. INDOGGO Gin presented DJ Spin who played soulful and classic jams live from the putting green and throughout the course, an essential PGD Global event feature.
As guests approached their TOYOTA branded golf carts, safely packaged boxed lunches and special Pepsi products were placed inside with hand sanitizers, wipes and information for the day. The tournament featured 2021 TOYOTA Vehicles; The Highlander Hybrid and The RAV4 were displayed by the driving range and a special Hole-In-One Challenge featuring the new 2021 Toyota Venza was positioned for all golfers on course.
"We want to continue to honor Calvin Peete while golf is still a promising activity for people to move around," said Nisha Sadekar, President & CEO of PGD Global. "We are ensuring the safety of our guests and staff first with mandated safety guidelines so the day is enjoyable for all."
Michael Sanders of Toyota Motor North America and Martin Davis, Chief Information Officer at Southern Company welcomed all guests and Calvin Peete Award Recipients alongside Mr. Warren Barge, Founder of The Calvin Peete Foundation and Nisha and Seema Sadekar of PGD Global. Collins and Bettis graciously accepted their Calvin Peete Awards and delivered heartfelt speeches of acceptance during the Calvin Peete Opening Ceremonies presented by Southern Company.
As a special treat for the golfers and attendees, on behalf of Southern Company, Mike Phillips, Jazz Saxophonist Extraordinaire serenaded the audience with a passionate performance in memory of the late PGA Member Carl Seldon and Musician Freddy Cole, both iconic Georgia figures who had attended this special event before their passing for many years, in support of their friend Calvin Peete and his legacy.
The Golf Tournament was hosted at Laurel Springs Golf Club in Suwanee, Georgia, a beautiful ClubCorp venue located 30 minutes outside of Atlanta, GA. The clubhouse lounge presented by Rellie's Hospitality featured INDOGGO Gin by Snoop Dogg, Somrus Coffee Liquor and Island John Vodka. Cigars were provided by Cigar City Club throughout the day to pair with the specialty cocktails.
"This such a special event that allows us all of Calvin's dearest friends, family and supporters to come together to celebrate his incredible and deserving achievements. I am thrilled to see the event grow every year," said Warren Barge, Founder of The Calvin Peete Foundation. "I am truly humbled that so many personal friends and supporters come from all over the country to participate so we can continue to build Calvin's legacy and dream, awarding leaders in our community and fuel the future and diversity within the game of golf."
The 2020 Calvin Peete Award Winners included:
The Calvin Peete Award | Jerome Bettis, NFL Hall of Fame & Atlanta Native
The Jr. Calvin Peete Award | Ms. Ariel Collins, US Lids Jr. Girls World Champion & Atlanta Native
Past Calvin Peete Award Recipients Include:
2019 Calvin Peete Award | Harold Varner III, PGA TOUR
2018 Calvin Peete Award | Cameron Champ, PGA TOUR
The Calvin Peete Foundation supports local organizations that encourage golf progression by providing access to golf for young African American prodigies and youth scholarships for education and golf for various young men pursuing their golf dreams. For those who would still like to support, please visit http://www.calvinpeetefoundation.org to make a tax-deductible contribution.
FOR ALL MEDIA
Media Contact: Diverse Public Media Group | hello(at)diversepublic(dot)com
ABOUT THE CALVIN PEETE FOUNDATION
The Calvin Peete Foundation was formed to support the legacy of professional golfer and legend, Calvin Peete. Peete's passion in life was golf, and as his wonderful career came to a close, he continued to grow and acknowledge diversity and inclusion within the game. Calvin Peete was a man who paved way in the world of golf for African Americans and removed boundaries and stigmas that the game was closed to those who were less fortunate. Peete set a standard of achievement in a world where African Americans were unaccepted and his ability to excel and push through the challenges at the highest level in golf, the PGA TOUR, is acknowledged and lives on through leadership and youth development through The Calvin Peete Foundation.
ABOUT PGD GLOBAL & THE "PROJECT FAIRWAY" MOVEMENT
Play Golf Designs, Inc. (PGD Global) is the future of golf entertainment meets golf entry. An innovative golf-focused firm, directing and producing luxury events and content for some of the world's most legendary athletes, brands, entertainers and organizations including Coach Mike Woodson, Julius "Dr. J" Erving, Jalen Rose, The Calvin Peete Foundation, Toyota, Diageo and MGM Resorts International. PGD creates the most innovative golf tournaments and experiences with a focus on elevating and celebrating diversity and inclusion within the game. In 2020 PGD Global announced "Project Fairway", a movement dedicated to growing the game of golf for young girls and women by connecting them with golf through lifestyle and wellness. PGD Global operates golf-lifestyle events and experiences all around the country, welcoming new golfers and businesses to the game with creativity, purpose and inspiration. More info: http://pgdglobal.com.
ABOUT TOYOTA
Toyota, creator of the Prius hybrid and the Mirai fuel cell vehicle, is committed to building vehicles for the way people live through our Toyota and Lexus brands. Over the past 60 years, we've built more than 40 million cars and trucks in North America, where we have 14 manufacturing plants, 15 including our joint venture in Alabama (10 in the U.S.), and directly employ more than 47,000 people (over 36,000 in the U.S.). Our 1,800 North American dealerships (nearly 1,500 in the U.S.) sold nearly 2.8 million cars and trucks (nearly 2.4 million in the U.S.) in 2019.