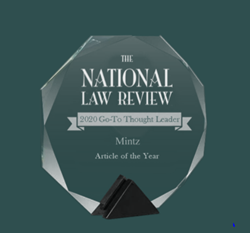 The NLR Go-To Thought Leadership Awards recognize over 70 contributors selected from a pool of 20,000 legal news articles published in 2020.
CHICAGO (PRWEB) December 21, 2020
The National Law Review's "Go-To Thought Leadership Awards" recognizes 72 exceptional legal authors in practice areas ranging from Aviation Law to the SBA's Paycheck Protection Program Implementation. Award recipients are selected from a pool of over 20,000 legal news articles published by the National Law Review (NLR) in 2020. Those honored wrote relevant, consistent and well-thought-out legal news, and the award committee also considered pieces quoted or cited by other publications and media. With the high volume of content the National Law Review publishes, the selected authors and organizations are truly "Go-To Thought Leaders" in their areas of expertise.
Jennifer Schaller, Managing Director of the National Law Review, "With the COVID-19 pandemic challenges of 2020, attorneys were unable to interact with their clients and potential clients in traditional, face to face ways, and this pushed the demand for the legal analysis provided by our authors to unprecedented levels, producing results like over 4.3 million page visits from readers in both March and April of 2020."
Per Eilene Spear, the National Law Review Operations Manager "Reliable and timely legal news was incredibly important this year, as new government programs provided a lifeline to struggling businesses and individuals who with the right guidance were able to take advantage of these emergency programs. NLR's subject matter experts provided analysis that gave a road-map, and practical advice to our readers and our audience responded with unprecedented readership numbers. A win-win, as lawyers cannot network or get their message out there in the traditional ways and readers are seeking updates on all the legal changes due to the turbulence in the economy."
This is the third year the NLR formally recognized the unique talents of its contributors. Less than 1% of the authors who publish with the National Law Review receive the "Go-To Thought Leadership Award." This year's winners include more than 70 authors and firms in more than 35 legal practice areas.
Please join us in congratulating the National Law Review's 2020 "Go-To Thought Leader" recipients:
2020's National Law Review Article of the Year: Vaccinate or Terminate – Mandatory Vaccination as Workplace Policy by Jennifer Rubin of Mintz.
Jonathan Rubin of Mogin Rubin LLP, Antitrust Industry News
Richard Newman of Hinch Newman, FTC Enforcement & Regulatory News
Christopher E. Ondeck of Proskauer Rose LLP, COVID-19 and Anticompetitive Pricing
Aviation Law

Katten - Aviation Industry and COVID-19
Business of Law

Bruce M. Hennes of Hennes Communication, COVID-19 and PPP Loan Communications
Debra Pickett of Page 2 Communications, Diversity in the Legal Industry
Meranda M. Vieyra of Denver Legal Marketing, COVID-19 Marketing Strategies
Consumer Protection

Womble Bond Dickinson (US) LLP, Fair Credit Reporting Act
Corporate Law

Keith Paul Bishop of Allen Matkins, California Corporate Law
Danielle L. Dietrich of Strassburger McKenna Gutnick & Gefsky, Small Business Certifications
Barnes & Thornburg LLP, COVID-19 Litigation
Dinsmore & Shohl LLP, COVID-19 Ohio Response
Ann Marie Uetz of Foley & Lardner LLP, COVID-19 Manufacturing Impact
Hill Ward Henderson, COVID-19 CARES Act
IMS ExpertServices, COVID-19 Insurance
Jennifer P. Wolff of Godfrey & Kahn S.C., COVID-19 PPP Implementation
Sherin and Lodgen LLP, COVID-19 Massachusetts Response
Criminal Law

Dr. Nick Oberheiden of Oberheiden, PC, Federal Investigations
Jonathan Tycko of Tycko Zavareei, False Claims Act
Kathryn Rattigan of Robinson & Cole LLP, Cybersecurity and Data Privacy
Squire Patton Boggs (US) LLP, California Privacy Legislation
Education Law

Abby S. Tilkens of Davis|Kuelthau, s.c., School Districts & COVID-19
Election and Legislative News

Bracewell LLP, 2020 Election Impact on Public Policy
Greenberg Traurig, LLP, 2020 Post-Election Analysis
Eric Bachman of Zuckerman Law, Employment Discrimination
Michael Comartin of Ogletree, Deakins, Canadian Workplace Law
Katz, Marshall & Banks, LLC, Employment Discrimination
Courtney M. Malveaux of Jackson Lewis PC, OSHA Regulation
Grant B. Osborne of Ward and Smith, P.A., COVID-19 and Employment Law
Bonnie Puckett of Ogletree, Deakins, Global Employment
John A. Rubin of von Briesen & Roper, S.C., National Labor Relations Board
Ian Carleton Schaefer of Epstein Becker & Green, P.C., COVID-19 Employment Strategies
Sills Cummis & Gross P.C., New York & New Jersey Employment Law
Charles O. Thompson of Greenberg Traurig, California Employment Law
David Whincup of Squire Patton Boggs (US) LLP, UK COVID-19 Employment Law News
Energy Regulation

Environmental Litigation Practice Group at Van Ness Feldman, Pipeline Safety Updates
Environmental Law

James M. Auslander of Beveridge & Diamond PC, Environmental Regulation
CMBG3 Law, PFAS Litigation
Carla N. Hutton of Bergeson & Campbell, P.C., Environmental Regulation
Giordano, Halleran & Ciesla, P.C, New Jersey Environmental & Land Use Law
Van Ness Feldman LLP, Environmental Legislation and Public Policy
Estate Law

David Fowler Johnson of Winstead, Fiduciary Litigation
Employee Benefits & Executive Compensation Group of Faegre Drinker
Food and Drug Law Practice Group of Keller and Heckman LLP, FDA Regulation and News
Family Law

Family Law Practice at Varnum LLP, COVID-19 and Family Law
Andrea Kramer of McDermott Will & Emery, Virtual Currencies
Stephen Rutenberg of Polsinelli PC, Fintech Regulation
Michael A. Zalay of Much, SBA Paycheck Protection Program
Government Contracts

Laura A. Mitchell of Jackson Lewis PC, OFCCP Regulation
Richard P. Church of K&L Gates LLP, 340B Drug Pricing Program
Matthew M. Shatzkes of Sheppard Mullin, Telehealth Regulation
Kristen Andrews Wilson of Steptoe & Johnson PLLC, Healthcare Regs COVID-19
Michael H. Neifach of Jackson Lewis PC, Immigration Updates
Najia S. Khalid of Wiggin and Dana LLP, Business Immigration
Raymond G. Lahoud of Norris McLaughlin P.A., Employment Immigration
Ashley Moore of Wiggin and Dana LLP, Immigration Regulation
Gilbert LLP, COVID-19 Business Interruption Insurance
Lorelie S. Masters of Hunton Andrews Kurth, COVID-19 Insurance Litigation
Paul S. White of Wilson Elser, Business Interruption Insurance Litigation
Intellectual Property Law

Gene Markin of Stark & Stark, Copyright and Trademarks
Aaron Wininger of Schwegman Lundberg & Woessner, China Copyright, Trademarks Patents
Litigation

Donald R. Frederico of Pierce Atwood LLP, Class Action Mediation
Personal Injury

Clifford Law, Medical Malpractice Law
Richard P. Console, Jr. of Console & Associates, Transportation Injury Law
Products Liability Law

Product Liability and Mass Torts Group of Schiff Hardin LLP, CPSC Enforcement
Real Estate Law

Steven M. Herman of Cadwalader, Wickersham & Taft LLP, COVID-19 Impact on Real Estate
Securities Law

Alexandra Clark Layfield of Jones Walker LLP, Corporate Governance
Investment Services Group of Vedder Price P.C., Investment News and Updates
Cornerstone Research, SEC Enforcement Trends
Marvin A. Kirsner of Greenberg Traurig, LLP, COVID-19 Tax Concerns
About the National Law Review: The National Law Review is a daily legal news website with a mission to provide objective and practical news and analysis. Legal news updates are published hourly. The National Law Review's news platform was developed by corporate attorneys and is the online descendant of a legal publication tracing its roots back to 1888. Through the talents of our own writers and contributing authors, the National Law Review is one of the highest volume legal news websites in the U.S. averaging 2 million readers a month. The National Law Review is a certified Women's Business Enterprise (WBE) and a Women-Owned Small Business (WOSB). For more information, please visit us at http://www.NatLawReview.com