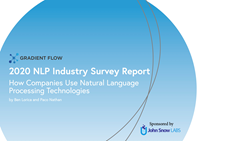 SAN FRANCISCO (PRWEB) September 23, 2020
Gradient Flow, the leading source for data, machine learning, and AI information, today released the 2020 NLP Industry Survey Report, which provides insights into the growth of Natural Language Processing in the enterprise. The report reveals how companies are using NLP, and what that means for the field and its enterprise users. The report is now available in full on the Gradient Flow website.
The term "NLP"—or natural language processing—encompasses a wide range of business use cases that are mostly text-based. Since people generally use text to record and transmit their communications, it's one of the most widely available and "interoperable" data formats. While some industry sectors such as finance and healthcare have long used text-mining approaches, more sophisticated use cases have been gaining traction across industries, especially during the latter 2010s.
"We found that businesses of all sizes are ramping up use of their NLP applications to take advantage of how this still-emerging technology enhances automation and scale," said Gradient Flow Founder Ben Lorica. "Our survey provides a detailed analysis of how NLP is moving from research into practice."
The NLP Industry Survey addresses key factors that influence the state of NLP development in the enterprise, including how long an organization has been deploying NLP and how mature its applications are. The report also shows the company size, scale of documents, and geographic region of technical leaders versus general respondents.
The survey yielded additional insights:

Most popular NLP libraries: Half of all respondents (53%) used at least one of the top two libraries: Spark NLP and spaCy. A third of all respondents stated they use Spark NLP, making it the most popular NLP library in our survey. A quarter of all respondents stated they use spaCy.
Companies turn to the cloud as their NLP applications become more sophisticated and mission-critical: 65% of respondents working at companies further along the NLP adoption curve use at least one of the top NLP cloud services: Google, AWS, Azure, and IBM.
NLP budgets are growing, across the board: 53% of technical-leader respondents stated their NLP budget was at least 10% higher compared to 2019, and 31% stated their NLP budget was at least 30% higher compared to 2019. The same trend applied to respondents from large companies (firms with 5,000 or more employees).
Document Classification and NER are the most popular applications of NLP technologies: The four most popular applications of NLP are Document Classification, Named Entity Recognition (NER), Sentiment Analysis, and Knowledge Graphs. Respondents from the Healthcare industry cited de- identification as another common NLP use case.
The report is authored by Ben Lorica, Founder of Gradient Flow, Chief Data Scientist at Databricks, and former O'Reilly Chief Data Scientist, and Paco Nathan, Technology Advisor and JupyterCon Co-Chair. It is sponsored by John Snow Labs.
The full report can be read here. The survey results will be presented at the inaugural NLP Summit, a virtual event taking place from October 6 – 16, 2020 (https://www.nlpsummit.org/registration).
About Gradient Flow
Gradient Flow presents a rich array of high quality content on data, technology, and business, with a focus on machine learning and AI. Named by Coursera as one of the Top 10 Sites for Data Scientists, Gradient Flow helps you stay ahead on the latest technology trends and tools with in-depth coverage, analysis and insights. For more information, visit http://www.gradientflow.com
Contact
Gina Blaber
Gradient Flow
gina@gradientflow.com
(707) 478-3615