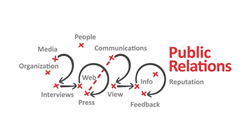 In this digital age, proactive PR can literally rescue a business from plummeting in both revenue and reputation
TAMPA, Fla. (PRWEB) March 10, 2020
Today, with over one-third of the world's population on social media, any person's or any company's mistakes can lead to considerable consequences. Social media is a very effective method for proactive disclosure; however, failing to respond to negative posts can give you a 43% decrease in customer advocacy, while a reply can increase it by 20%. (1)(2) For dealing with social media issues, public relations is an invaluable service to pivot from public scrutiny to repaired reputations. "Companies must assume that they are always at risk for a potential crisis," says Karla Jo Helms, Chief Evangelist and Anti-PR Strategist for JoTo PR. "No organization too big or too small is immune to a social media PR crisis of any kind."
If consumers and organizations do not take the time to set proper mitigation efforts or have crisis management plans in place, in just the stroke of a few keys— their brand images can take a hit. Brands are becoming more PR savvy and in this digital age; it's a non-negotiable sphere to be in.
Notable PR Fails that heed warnings to businesses:

During the last decade, companies as diverse as Samsung, Kenneth Cole, and United Airlines all suffered epic PR failures to their brands' reputations because of massive social media mistakes.
Samsung was slow to act and communicated misinformation after its Galaxy 7 smartphones caught fire while charging, causing a loss of $14 billion off its market value, while United's shares fell 5% and wiped $1.1 billion off its market value after a poor social media response damaged its brand.(7)
As public scrutiny continues to plague consumers and businesses, the need to take PR very seriously increases. This includes carefully tackling their collective online personas and reputation management through 3rd party credibility. (3)
All companies should have a crisis communication plan in place with designated spokespeople, the right skills, and the right position that can be put into effect in minutes, not hours. (4)
Social media message can easily cause damage to a brand reputation, by rushing in without a plan of action, by overuse, and by account hacking. (5)
A recent Securities and Exchange Commission (SEC) case demonstrates how the unfettered use of social media communications tools cost both the company and Tesla CEO Elon Musk separate $20 million fines for tweeting about the company's proposed share value. (6)
"Businesses need PR," Karlo Jo concludes. "In this digital age, proactive PR can literally rescue a business from plummeting in both revenue and reputation." Now, with social media, customers have a stronger voice. They can do comparative analyses under several channels, so companies are constantly under a microscope to counteract negativity with a stronger communication strategy. In addition, citizen journalists span the internet and any PR failure can lead to companies struggling with their online conversations. Crisis management with proactive PR is always favored over reactive PR.
About JoTo PR:
After doing marketing research on a cross-section majority of 5,000 CEOs of fast-growth trajectory companies and finding out exactly how they used PR, how they measure it and how they wanted the PR industry to be different, PR veteran and innovator Karla Jo Helms created JoTo PR and established its entire business model on those research findings. Astute in recognizing industry changes since its launch in 2009, JoTo PR's team utilizes newly established patterns to create timely PR campaigns comprising both traditional and the latest proven media methods.
This unique skill enables this Tampa Bay PR agency to continue to increase the market share and improve return on investment (ROI) for its clients, year after year—beating usual industry standards. Based in Tampa Bay, Florida, JoTo PR is an established international public relations agency. Today, all of JoTo PR's processes are streamlined PR services that have become the hallmark of the JoTo PR name. Giving hope and help to meaningful and purposeful businesses is what makes JoTo PR motivated to impact the world positively and for the optimism to help more people.
About Karla Jo Helms:
Karla Jo Helms is the Chief Evangelist and Anti-PR Strategist for JoTo PR. She learned firsthand how unforgiving business can be when millions of dollars are on the line—and how the control of public opinion often determines whether one company is happily chosen, or another is brutally rejected.
Being an alumna of crisis management PR, Karla Jo has worked with litigation attorneys, private investigators and the media to help restore companies of goodwill back into the good graces of public opinion—she operates on the ethic of getting it right the first time, not relying on second chances, and doing what it takes to excel.
Karla Jo has patterned her agency on the perfect balance of crisis management, entrepreneurial insight and proven public relations experience. Helms speaks globally on public relations, how the PR industry itself has lost its way and how, in the right hands, corporations can harness the power of PR to drive markets and impact market perception.
1. Chen, Jenn, "Why You Need a Social Media Customer Service Plan", SproutSocial.com, June 5, 2019,
sproutsocial.com/insights/social-customer-care.
2. Bullock, Lilach, "The Biggest Social Media Fails of 2018", Forbes.com, November 27, 2018, forbes.com/sites/lilachbullock/2018/11/27/biggest-social-media-fails-2018/#3bad9cb7518f.
3. Spratt, Will, "Fragility, Responsibility, Opportunity… Corporate Comms Trends for 2020", PRWeek.com, January 9, 2020, prweek.com/article/1670143/fragility-responsibility-opportunity-corporate-comms-trends-2020.
4. "Crisis Communication Guide 2020 (including free template)", Prezly.com, prezly.com/academy/relationships/crisis-communication/the-only-crisis-communication-plan-you-will-ever-need.
5. Fanaras, Linda A., "4 Risks for Your Business to Consider When Using Social Media", Mill.Agency.com, mill.agency/content/4-risks-business-consider-using-social-media.
6. Cruz, Robert, "SEC Scrutiny Highlights Risks of Social Media", RMMagazine.com, September 3, 2019, rmmagazine.com/2019/09/03/sec-scrutiny-highlights-risks-of-social-media.
7. Cope, Ellis, "Top 3 PR Fails: What We Can Learn From What Went Wrong", Cope-SalesAndMarketing.com, July 18, 2017, cope-salesandmarketing.com/top-3-pr-fails-can-learn-went-wrong.
# # #