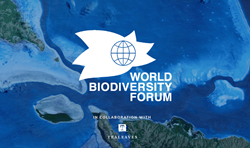 DAVOS, Switzerland (PRWEB) April 26, 2021
The World Biodiversity Forum, organized by the University of Zurich, bioDISCOVERY, and supported by TEALEAVES, will return with a series of virtual events bringing together global authorities across disciplines, societal actors, and youth representatives. The purpose is to inspire action on the part of non-state actors in order to achieve the goals of the new global biodiversity framework and the 2050 Vision of the Convention on Biological Diversity: Living in Harmony with Nature.
"Biodiversity is life on earth. Without biodiversity, humans would not be able to exist. Urgent action is required to preserve biodiversity, for its own sake, but also for future generations," says Dr. Cornelia Krug, Science-Policy Liaison at the University of Zurich and World Biodiversity Forum Chairperson.
Each event will focus on how various sectors can transition and transform to raise awareness surrounding the impact of biodiversity loss on a particular societal framework (policy, economics and finance, food systems, and education). Dialogues will inspire participants to take action for biodiversity, climate, and the environment. This requires multidisciplinary and transdisciplinary approaches and broad responsibility for actions that will shift practices and norms.
"Global Biodiversity Outlook 5, released this past fall, showed that many good things are happening around the world and these should be celebrated and encouraged," explains Elizabeth Maruma Mrema, Executive Secretary of the Convention on Biological Diversity. She continues:
"Nevertheless, the rate of biodiversity loss is unprecedented in human history and pressures are intensifying. Earth's living systems as a whole are being compromised. And the more humanity exploits nature in unsustainable ways and undermines its contributions to people, the more we undermine our own wellbeing, security and prosperity."
The World Biodiversity Forum Online Experience
To accompany the virtual experience, the World Biodiversity Forum has partnered with Nature X Design a pro-bono, biodiversity centric initiative of TEALEAVES and will take over their open-source Biodiversity Hub as the virtual foyer for the events.
"The Biodiversity Hub is an exploratory platform celebrating the vast work of non-state actors in combating biodiversity loss which aligns wonderfully with the mission of the World Biodiversity Forum" said a Nature x Design spokesperson. "Much like the buzz of the Davos Congress Centre we want to emulate the organized chaos, incubate ideas, share resources, and bring networking within a virtual ecosystem to new heights."
Session Details and Registration Information for Forum Events
April 29th, 2021 - 5:30 pm CET | Implementing Governance for Biodiversity
Panelists will discuss how alliances can achieve the biodiversity goals as well as the sustainable development goals, and how collaborations and partnerships with non-state actors can be forged. Achieving the goals of the framework requires broad-based actions across all sectors of society, from government bodies to local communities. Implementation of the framework mainly takes place on national level - but also at subnational and regional levels. Register here: https://us02web.zoom.us/webinar/register/6316188626910/WN_iLttXtNPSbS_shl_kJbVPQ
May 6th, 2021 - 5:30 pm CET | Restoring Nature for Biodiversity, Climate and People
Panelists will discuss what concerted actions are necessary to halt biodiversity loss, reverse ecosystem degradation, combat climate change and secure human well being. How can we bend the curve of biodiversity loss, and what role do nature-based solutions play in ecosystem restoration and climate action? Register here: https://us02web.zoom.us/webinar/register/2416188627966/WN_OpXZ-aM9RyqDMPKURTvb9Q
May 13th, 2021 - 5:30 pm CET | Rethinking Finance and Economics for Biodiversity
Human failure to address climate change are among the top ten risks listed by the 2021 WEF Global Risk Report. Panelists will discuss the various ways in which to rethink the economic paradigm that recognizes biodiversity as the foundation of economic sustainability, human well-being and prosperity. How can the value of biodiversity be reflected in economic terms and what are new financial tools available to protect biodiversity? Register here: https://us02web.zoom.us/webinar/register/1316188628616/WN_JG063GPvQ02--ALe-Fq7GQ
May 21st, 2021 - 5:30 pm CET | Food, Culture, and Biodiversity: In Good Taste Documentary Launch
With themes ranging from mouthfeel to regenerative agriculture, indigenous food knowledge, and biodiverse diets, 'In Good Taste' reveals solutions to save our planet and our personal health. Changing human behavior is a matter of deliciousness or desirability: How can we mobilize for positive impact through our choices when it comes to personal taste?
In celebration of UNESCO's World Day for Cultural Diversity on May 21st and World Biodiversity Day on May 22nd, join the public launch of TEALEAVES' 'In Good Taste' Documentary at the World Biodiversity Forum. Register here: https://us02web.zoom.us/webinar/register/1316188628977/WN_boXo72_YRfWeV67HF-LoGg
May 27th, 2021 - 5:30 pm CET | Imagining Positive Futures for Biodiversity
Negative visions regarding the impacts of human actions on the environment can become self-fulfilling prophecies - we need positive visions and examples of solutions to take action and create the future we want for biodiversity and our planet. Panelists will engage in a discussion on how we can change the narrative of conservation and the sustainable use of biodiversity to be increasingly positive, productive, and effective to ultimately ensure the well-being of future generations. Register here: https://us02web.zoom.us/webinar/register/1216188629306/WN_Djsdfj2GRjySfYSD5FQ2nw
About World Biodiversity Forum
Established in 2020, the World Bio­di­ver­si­ty Fo­rum brings to­geth­er lead­ing re­searchers, ear­ly ca­reer re­searchers, prac­ti­tion­ers, rep­re­sen­ta­tives from dif­fer­ent sec­tors, de­ci­sion-mak­ers and so­ci­etal ac­tors in con­ver­sa­tion, pro­viding a plat­form for ex­change, cov­er­ing a wide range of per­spec­tives, and cap­tur­ing a di­ver­si­ty of vi­sions. Supported by the University of Zurich Research Priority Program 'Global Change and Biodiversity' and bioDISCOVERY, the Forum aims to re­de­fine and set the agen­da for bio­di­ver­si­ty as a fo­cal point over the next decades in cur­rent themes and top­ics across sec­tors. More details at: https://www.worldbiodiversityforum.org/en/.
About TEALEAVES
Established in 1994, TEALEAVES is one of the very few remaining tea blenders in the world, known for hand-crafting the highest quality teas in small batches. With a unified goal of inspiring connections and creativity, TEALEAVES blends techniques, stories, people, companies and ideas to understand and tackle global issues. This information is shared through the work of our documentaries (In Good Taste, Garden of Secrets, Language of Aroma, Color in Sight), Design Weeks (San Francisco Design Week, LA Design Week), and panel discussions (World Biodiversity Forum, Nature x Design). More information is available at: TEALEAVES.com.