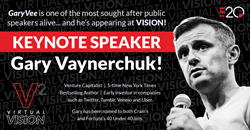 "We are so looking forward to GaryVee's keynote at VISION," says Crystal McFerran, CMO of The 20. "The 20 is thrilled to share this incredible slate of content with the MSP community. If you're looking to take your MSP to the next level, you don't want to miss VISION 2020!"
DALLAS (PRWEB) September 21, 2020
The 20, a leading consortium of managed service providers (MSPs), is excited announce keynote speaker Gary Vaynerchuk.
Entrepreneur and social media influencer, Gary Vaynerchuk, better known as "Gary Vee," is set to deliver a keynote address on October 1st at Virtual VISION. GaryVee got his start over 13 years ago after starting a web series called Wine Library TV. After slowly building a following and an audience, Gary Vee started VaynerMedia, a full-service advertising agency that has grown to work with some of the most recognizable brands in the world.
Today, Gary continues to be an influential figure in the marketing and entrepreneurial spaces. He is a highly sought-after public speaker, a five-time New York Times bestselling author, as well as a prolific early angel investor in companies like Facebook, Twitter and Uber.
GaryVee will give a keynote address to everyone at VISION, followed by a Q&A session.
"We are so looking forward to GaryVee's keynote at VISION," says Crystal McFerran, CMO of The 20. "The 20 is thrilled to share this incredible slate of content with the MSP community. If you're looking to take your MSP to the next level, you don't want to miss VISION 2020!"
Joining Vaynerchuk will be a powerful speaker lineup including Mark Manson, author of New York Times bestseller "The Subtle Art of Not Giving a F*ck" and Walter Bond, former NBA player and success coach.
What can you expect from VISION this year? A full roster of sought-after speakers, innovative disruptors and business-focused visionaries sharing their knowledge with likeminded MSPs who are seeking to level up.
Virtual VISION will take place Wednesday, September 30th and Thursday, October 1st. The two-day event also features a full slate of leading channel partners and industry experts. Hailed as the most important MSP event of the year, VISION 2020 will bring together top MSPs and IT service providers for two impactful days of speakers, sessions, and networking focused on business best practices, thought leadership, and growth.

Keynote presentation and Q&A by Gary Vaynerchuk
Business and life lessons from Mark Manson and Walter Bond
Hot topics such as AI, the new MSP landscape, shadow channels and sales/pipeline creation
Growth strategies from MSP industry experts
The full conference agenda can be found here.
Interested in attending VISION 2020? Register at https://www.the20.com.
About The 20
The 20 is an exclusive business development group for Managed Service Providers (MSP) aimed at dominating and revolutionizing the IT industry with its standardized all-in-one approach. The 20's robust RMM, PSA, and documentation platform ensures superior service for its MSPs' clients utilizing their completely US-based Help Desk and Network Operations Center. Extending beyond proven tools and processes, The 20 touts a proven sales model, a community of industry-leaders, and ultimate scalability. To learn more, visit https://www.the20.com/.