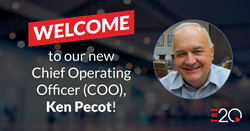 "We are thrilled to add an executive of Ken's caliber and accomplishments to The 20 leadership team," said Tim Conkle, CEO of The 20. "I feel there is no one better for this role and Ken was well worth the wait. I truly believe in his leadership and am proud of this move."
PLANO, Texas (PRWEB) September 01, 2021
The 20, a leading MSP consortium, announced the hiring of Ken Pecot as Chief Operating Officer (COO).
Ken is a highly experienced senior executive with a proven track record of helping companies grow their business. He has an extensive background in Global P&L Management, Professional and Managed Services, Manufacturing and SCO, Enterprise IT Operations, Sales, R&D Leadership, Product Management, Corporate Strategy and International Business. Ken has run business units with global P&L's in excess of $2Billion. He has held previous executive roles with Netscout Systems, Danaher Corporation, Real Networks and Nortel Networks. Ken excels in Building Winning Teams, Lean Business Methodologies and helping his customers win in the marketplace.
Ken earned his degree in Electrical Engineering at Texas A&M University and is currently a member of the Texas A&M Electrical Engineering Executive Advisory Council.
"We are thrilled to add an executive of Ken's caliber and accomplishments to The 20 leadership team," said Tim Conkle, CEO of The 20. "I feel there is no one better for this role and Ken was well worth the wait. I truly believe in his leadership and am proud of this move."
In his new role, Ken will lead and provide strategic oversight of The 20's key operational areas to ensure excellence and disciplined growth as The 20 continues to transform the managed services industry.
"I am excited to join an innovative, high-growth company with a compelling vision to change the paradigm for managed service providers," Pecot said. "I look forward to aligning The 20's world-class model with industry-leading operational practices to drive and extend the next generation of The 20's vision."
Ken Pecot joins The 20's executive leadership team, which includes Tim Conkle - Chief Executive Officer (CEO), Jeff Griffin - Chief Information Officer (CIO), Crystal McFerran – Chief Marketing Officer (CMO), Ciera Cole - Chief Experience Officer (CXO), and Donna Pebworth – Controller.
About The 20
The 20 is an exclusive business development group for Managed Service Providers (MSPs) aimed at dominating and revolutionizing the IT industry with its standardized all-in-one approach. The 20's robust RMM, PSA, and documentation platform ensures superior service for MSP clients utilizing their completely US-based Help Desk and Network Operations Center. Extending beyond cutting-edge tools and processes, The 20 touts a proven sales model, a community of industry leaders, and ultimate scalability. For more information, visit: http://www.the20.com or go to LinkedIn, Twitter or Facebook.