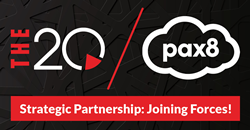 "Partnering with Pax8 will help us continue to serve and empower our MSP members — and in new and exciting ways," said Tim Conkle, CEO of The 20.
PLANO, Texas (PRWEB) February 28, 2023
Leading MSP organization The 20 MSP Group today announced its strategic partnership with Pax8, the world's favorite cloud marketplace. The partnership equips The 20 with a transactional platform that simplifies the buying journey for its MSP members through consolidated billing, automation, and next-generation PSA integrations.
"The 20 MSP group is a trailblazer in the MSP industry, continuously innovating and raising the bar that resonates with our Pax8 vision," said Jared Pangretic, SVP of Sales, Americas at Pax8. "We look forward to our partnership with the 20 MSP Group to help our MSP partners improve efficiencies, reduce their risks, and grow their cloud business."
This news comes after Pax8 announced the hiring of Rob Rae, IT channel veteran and former Senior VP of Business Development at Datto. As the new Pax8 Corporate Vice President (CVP) of Community and Ecosystems, Rae will be responsible for strengthening MSP relationships, offering strategic guidance for the implementation of new programs, and enhancing the partner experience globally. Rae said he joined Pax8 because of the company's forward-looking corporate vision, commitment to the channel, and strong track record of investment in the MSP industry.
The 20's leadership team shares Rae's enthusiasm about Pax8's mission and looks forward to the collaboration.
"The 20 has made its mark by building lasting relationships with MSPs founded on mutual respect and a commitment to growth," said Tim Conkle, CEO of The 20." Partnering with Pax8 will help us continue to serve and empower our MSP members — and in new and exciting ways. We can't wait to get started on what's sure to be a fruitful collaboration."
Added Conkle, "There are game-changing improvements on the horizon for our MSP community."
About The 20 MSP Group
The 20 is an exclusive business development group for Managed Service Providers (MSPs) aimed at dominating and revolutionizing the IT industry with its standardized all-in-one approach. The 20's robust RMM, PSA, and documentation platform ensures superior service for MSP clients utilizing their completely US-based Help Desk and Network Operations Center. Extending beyond cutting-edge tools and processes, The 20 touts a proven sales model, a community of industry leaders, and ultimate scalability. For more information, visit the20.com.
About Pax8
Pax8 is the world's favorite cloud marketplace for IT professionals to buy, sell, and manage best-in-class technology solutions. Pioneering the future of modern business, Pax8 has cloud-enabled more than 350,000 enterprises through its channel partners and processes one million monthly transactions. Pax8's award-winning technology enables managed service providers (MSPs) to accelerate growth, increase efficiency, and reduce risk so their businesses can thrive. The innovative company has ranked in the Inc. 5000 for five years in a row. Join the revolution at pax8.com.