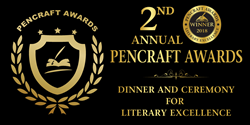 It's always interesting to meet great writers and to talk to them about where their ideas originated and how they go about their work. What got them started and what inspired them. For authors, it's a fantastic opportunity to exchange ideas with peers.
HOUSTON (PRWEB) October 16, 2018
The PenCraft Awards for 2018 will recognize 46 remarkable works in numerous categories at its 2nd Annual Event.
Four of the outstanding Winners will share the spotlight that night as the best of the best.
One of them is Kishan Paul from the Dallas, Texas area. Her novel "The Second Wife," published by Kishan Paul is the recipient of the PenCraft Award for Book of The Year. The book is a dark suspenseful yet romantic love story about the trials and tribulations of Doctor Alisha Dimarchi who is kidnapped by one of her patients, and smuggled into Pakistan. The fast-paced psychologically stunning, intricately written piece of fiction parallels the real-life dilemmas of the many women who are annually kidnapped in our world to be married off or to be used as sexual slaves. The National Crime Information Center (NCIC), reported that in 2010, the US had reported 355,243 women missing and unfortunately in 2018 the numbers will be worse. Whether Paul's intention was to speak out against human trafficking or not, her book brutally illustrates the horrors endured by kidnapped women moved thousands of miles from their home and forced to live as chattel.
Kishan was Born in India, but 4 years later became a Texan and now calls Dallas, Texas her home. She has established herself as a woman who can fuse both action and romance into a subtle yet complex creation, dealing with epic subjects with invention and courage and a great deal of heart. The Second Wife is a powerful new epic that Paul has adroitly woven the prickly threads of religion, politics, race, sin, and redemption into a thing of terrible beauty. The Second Wife is an Amazon 2016 Kindle Book Awards Winner, The McGrath House Independent Book Awards 2016 Winner, and finalist for The Maggie Award for Excellence of 2016. When not writing, Kishan works as a therapist in private practice.
Anne K. Howard, a practicing lawyer from Connecticut, won Best Non-fiction Book of the Year. She is the author of "His Garden: Conversations with a Serial Killer," published by Wild Blue Press. Anne Howard became involved with Connecticut's most prolific serial killer, William Devin Howell when he was first sentenced to a fifteen-year prison sentence for a single murder. She would soon discover that Howell was the murderer of at least six women and one man. Through jailhouse visits, recorded phone calls, and written correspondence, Anne K. Howard methodically probed the psyche of this confessed murderer to try to understand the inner workings of his diabolical mind. What drove Howell to kill? What was festering in his mind that finally led him to rape and kill his first random victim?
Alternating chapters of "His Garden" explore the police investigation involved in bringing a serial killer to justice, the killer's first murder trial, and interviews that Anne Howard conducted with some of the victims' family members.
Howard's book will be featured in an episode of "21st Century Serial Killers," airing on Netflix in Europe in late 2018 and in America in 2019. Interviews with Howard were also featured in a recent episode of "Crime Watch Daily." She writes a blog, "Serial Murders in Connecticut," in which she discusses many solved and unsolved murders in Connecticut.
Anne K. Howard will be at the PenCraft Award ceremony, November 10, 2018, to answer those questions, meet and greet and reveal more about her fascinating interviews with serial killer, William Devin Howell.
Chris Kelsey's book, "Where the Hurt is," published by Black Rose Publishing won the PenCraft Award for Best Fiction Book of the Year. His book is a story about the murder of a young African-American woman whose naked battered body is found by the railroad tracks in a small dusty all white west Oklahoma town. The story takes place in the spring of 1965 with racial tensions boiling over across the nation. Ex-Marine Emmett Hardy, the town's police chief is thrust into solving the murder which most town folks just want to forget. Chief Emmett Hardy is not going to let that happen. He plans on solving the murder; he wants justice for the young girl and he thinks he knows who the killer is.
Chris Kelsey who resides in Pawling, NY, New York has a style of writing that is beautiful and direct, naked and almost pagan in its connection to the landscape he describes and his understanding of base human nature. He possesses a vivid imagination and a whole encyclopedia of niche knowledge about west Oklahoma. His pages talk of people being dragged painfully into a modernity and a new world they abhor.
Chris Kelsey who's also a jazz musician with many albums to his credit, perhaps gives him an edge in writing stories that flow so smoothly and ring so true. There is not only a rhythm in his music but also to his words.
Chris will be flying into Texas to attend the PenCraft Award Dinner and Ceremony. He will be available for meet and greet Saturday afternoon and after the event.
Isabella Murphy is the author of "From Dark to Light," a book she wrote as a 5th grader. A couple of years later, Isabella's book was published by Pink Umbrella Publishing. Her delightful book, beautifully illustrated by Natalia Perez, caught our eye and won 1st place for the PenCraft Award in the category of Children Books. Since the release of her book, Isabella has been an inspiration to other writers both young and old.
This talented young author's writing demonstrates an astonishing understanding of what life is about in her allegorical book about a pumpkin that struggles with darkness, the desire to be recognized, sibling conflict, and the desire to be loved. Isabella Murphy's creativity, writing skills and steadfast marketing of her book should be an inspiration to all writers who have a story to tell, but just haven't had the drive or the patience to write it.
Isabella Murphy's life is exciting, but a bit hectic. Friday evening, November 9th, she will attend a school function in California and, on Saturday morning, November 10th, board a plane and fly to Texas to attend the PenCraft Award ceremony. At the ceremony, Isabella will be available to answer your questions and reveal more about her fascinating life as an 8th grade published author.
Those are our four headliners, but we will also be honoring multiple other great writers who have won not only a PenCraft Award but also honors from other literary competition.
Award-winning authors, Claire Kim a Los Angeles based Criminal Defense attorney and Brad Chisholm an LA-based writer wrote K-Town Confidential and Kat & Maus, both published by Black Rose Writing and represented by Langton International in New York. They are the recipients of the 1st Place PenCraft Award for Romance – Contemporary. They also will be available for interviews during Saturday afternoon meet and greet.
"It's always interesting to meet great writers and to talk to them about where their ideas originated and how they go about their work. What got them started and what inspired them. For authors, it's a fantastic opportunity to exchange ideas with peers," event coordinator Hearne stated.
The PenCraft Award competition strives to give all authors an equal opportunity in promoting their works to the reading public. Our goal is to make our competition inspiring, fun and open to all authors. The PenCraft Award receives hundreds of nominations for awards, but only a small percentage win. Our winners are the best. We hope that we can continue being a conduit to the introduction of new authors and great new books to the reading public.
The PenCraft Award ceremony and dinner will be held on November the 10th at Book Nook Inn located in Lumberton, TX. For more information, please contact the event coordinator, David Hearne 409-656-4625.