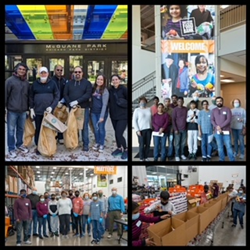 CHICAGO (PRWEB) November 16, 2021
On October 16, twelve PMI Chicagoland Chapter volunteers at the Northern Illinois Food Bank packed 600 boxes which provided 8,000 meals for those needing assistance, according to Traci Ragas, Director of Professional Association Outreach, who organized the event. Contents included beans, peanut butter, cans of milk, and other non-perishable items amounting to 9,600 lbs. of much needed food.
The six volunteers at McGuane Park participated outdoors, collecting 13 bags of trash and 8 bags of recycling including bottles, cans, cardboard, and other materials. "It was a beautiful day with perfect fall weather," said volunteer Len Marchese, VP of Community Outreach. Marchese noted that after being indoors for so much time due to COVID. "Seeing other people was very inspiring and it was energetic. There was a whole sense of community in the park. A woman was walking by with her dogs while I was picking up litter and thanked me. It was nice to get that moment of recognition."
Last year's Community Day was virtual only due to COVID restrictions. Ragas said that this year they wanted to provide both outdoor and indoor venues, plus city and suburban geographic locations. These events provided "a chance to give back and make things better for the community where you live," noted Ragas. "That's some of the intention behind these events. I think that we'll definitely take what we've learned from these two events and then in the future make events like these even better."
To volunteer or donate to these organizations, check out:
Northern Illinois Food Bank: https://solvehungertoday.org/
McGuane Park: https://www.chicagoparkdistrict.com/parks-facilities/mcguane-john-park
About PMI Chicagoland Chapter
With over 4000 members in the Chicago metropolitan area, PMI Chicagoland is one of the largest and most active chapters of the Project Management Institute (PMI), the world's leading not-for-profit professional membership association for the project, program, and portfolio management profession. Founded in 1969, PMI delivers value for more than three million professionals working in nearly every country in the world through global advocacy, collaboration, education, and research.