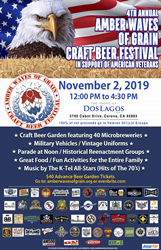 "I carry profound respect toward veterans and their selflessness serving our country. I will do whatever I can to support them through my verticals and voice. It is a privilege to participate in the Amber Waves of Grain Festival." ~ Justin Peck #49
LOS ANGELES (PRWEB) October 23, 2019
The All America Riders in partnership with the Blue Star Mothers (CA30) and Stone Church Brewing are gearing up for the 4th Annual Amber Waves of Grain Craft Beer Festival in support of American veterans on Nov. 2, 2019 from 12 PM to 4 PM at The Shops at Dos Lagos (located at 2780 Cabot Dr., Corona, CA 92883). California's largest craft beer festival dedicated to those who have served will gift 100% of the proceeds from the event to the Riverside County veteran community. The Amber Waves of Grain committee is proud to announce champion Lucas Oil and Best in the Desert off-road driver and Mental Health Advocate, Justin Peck #49, as the Grand Marshall of this year's festival. Justin Peck will co-MC alongside "The Marine of Comedy" Master Sergeant Kevin Davis and deliver an impromptu speech surrounding mental health.
Festival attendees will enjoy a craft beer garden featuring over 40 microbreweries and 4 homebrew clubs; UNLIMITED 4oz tastings with a commemorative festival pint glass; classic, vintage and current military cars and jeeps; military parade (12 PM-12:30 PM) w/ WWII Veterans, historical reenactment groups from the Revolutionary War to the Vietnam War, live music by the K-Tel All-Stars (singing your favorite 8-track songs from the 1970s), Justin Peck autograph signings, vendors, comedy, food trucks, and fun for the whole family.
Since 2016 the Amber Waves of Grain Festival has raised and distributed over $96,000 dollars to veteran support organizations such as Blue Star Mothers (CA30), All American Riders, American Legion, VFW, Marine Corps League, Cal-Vet, 4 Paws 4 Patriots Service Dogs, Southern California Wheelchair Veterans Association, Bob Hope USO, A New Start For Veterans, and many more. Funds have helped with the Christmas Dinner for Homeless Veterans, provided transportation and meals to homeless veterans, serve wounded members of the military who are attempting to return to civilian life with service dogs to provide both physical and emotional support, and to the Tadpole Foundation, who takes veterans to the high Eastern Sierras for hiking and kayaking to Montana for trout fishing and horseback riding, to name a few.
"I carry profound respect toward veterans and their selflessness serving our country. I will do whatever I can to support them through my verticals and voice. With over 30 percent of active duty and reserve military personnel deployed with mental health conditions requiring treatment – that's approximately 730,000 men and women, less than 50 percent of returning vets receiving any mental health treatment at all, and 22 veterans dying by suicide every day, those statistics are alarming. It is a privilege to participate in the Amber Waves of Grain Festival." ~ Justin Peck
Tickets for the Amber Waves of Grain Festival can be purchased for $40 (general admission) and $100 (100 Patriots Who Care) at https://www.eventbrite.com/e/amber-waves-of-grain-craft-beer-festival-for-veterans-2019-tickets-69238501221?aff=ebdiglgoogleseo.
For more information on Amber Waves of Grain, visit amberwavesofgrain.org.
Stay Connected @Justin Peck49 or visit Justinpeck.com.
Press Contact:
Jade Umbrella PR
Stacey Barker
c:323.833.8358
e: stacey@jadeumbrella.com