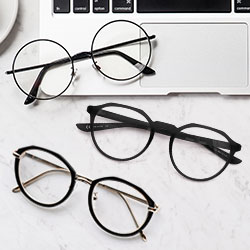 MIDDLESEX, N.J. (PRWEB) January 08, 2020
Depending on who you are, the idea of actually going to a physical location to try on glasses might not be your cup of tea. Fortunately, the eyewear industry is doing everything it can to expand across the internet and make purchasing eyewear online as easy as possible. Buying your glasses online is an easy process for getting what you need quickly and efficiently. The internet is a great way to purchase whatever type of prescription glasses you need depending on your eyesight and aesthetic, even if you might need something a little less conventional or a little more durable.
No matter what your preference might be, there are plenty of great options that will meet your needs, and you won't have to leave your home. These are some of the best places that you can go to purchase glasses online according to pretty much everyone.
Warby Parker has taken the guesswork out of purchasing glasses online. One of the main pain points customers had about purchasing glasses online was that they couldn't really picture how the glasses would look and feel on their faces when they bought them online. Warby Parker addressed the problem by allowing users to select 5 frames to try on at home for free. This way you can try multiple colors, frame styles, and designs without having to actually go anywhere.
They also hit another pain point with their glasses. Their frames start at a price of $95 and come in all of the latest fashions and designs available. This means that users can get a cool pair of glasses that they love and a pair of frames that meet their needs for the price of $95, far less than you would see in an eye doctor's office with designer brands. By creating a business that makes it quick and easy for people to try multiple glasses and afford their new eyewear, Warby Parker is a great option for buying glasses online.
2. Rx-safety
RX-Safety sells eyewear of all types to consumers, but what makes them different is their emphasis on safety glasses. RX-Safety specializes in safety glasses options that allow for prescriptions, comply with OSHA's specifications, and still make their customers look great. They sell only the highest quality glasses, but they come at a range of prices. Their focus is on making prescription eyewear affordable and available for people who are active or who have specific needs to be fulfilled by their glasses.
Their product offerings cover all types of situations where safety glasses might be a good option for a customer including motorcycle glasses, sports glasses, sunglasses, and prescription safety glasses. If you're looking for a pair of glasses that will stand up to higher than average wear and tear and still look great, RX-Safety is a great place to start. Plus, if you look at the products, you'll be able to see in the product description how the glasses are designed to protect your eyes so you can make an informed decision about the eyewear you purchase.
Visionary Supplies breaks down every possible pain point or eyewear need you might have so you can make your selection based on a specially curated selection of products. Whether you're looking for a pair of glasses to protect you during glassworking or you need a new pair of lenses to combat the blue light from your screen, Visionary Supplies will provide you with a few options that will meet those needs specifically. For those who tend to be indecisive or struggle to find products that meet a less common need, this site will give you a predetermined set of options that will make your purchase quick and easy.
In addition, Visionary Supplies offers brand name options so if you are still on the fence about which eyewear option will be the longest lasting and most effective choice, you can rely on familiar brands and see which options are the best for your particular glasses needs.
Zenni Optical is a California-based company known for creating affordable and stylish glasses that people go nuts for. They are a fantastic option for a person looking to upgrade their eyewear style or looking for a cool pair of glasses to complement their personal aesthetic. Zenni Optical frames come in tons of colors, styles, and price points, from the more conventional tortoiseshell to a whacky glow-in-the-dark option that must make it easier to read at night. For the more style-oriented customer, Zenni Optical is a great option.
To add a little more punch to their products, Zenni Optical often does collaborations with celebrities, sports stars, and fashion icons. Fans can get a taste of the celebrity's personal style at an affordable rate, and they don't even have to leave their couch. To top it all off, you can get the blue light blocking frames that everyone is starting to use to prevent headaches from looking at your screen all day. Completely stylish and protective of your eyes as well.
5. MyEyewear2Go
This is the site you go to if you're looking for a new pair of prescription glasses, sunglasses, or safety glasses and you are all about brand names. They have dozens of glasses options but they also have all of the big brand names from Kate Spade to Hugo Boss to Ray-Bans. They also sell prescription safety glasses for all types of different sports including winter sports, scuba diving, fishing, and basketball. They also have a wide range of motorcycle safety glasses also. If you have a brand that you love and you want to take a look at their selections, MyEyewear2Go is a great place to start.
What to Know When Buying Glasses Online
Although buying your glasses online might be more convenient, there are a few things you'll want to make sure that you take into account before you pull out your credit card. Regardless of the type of glasses that you might be looking for, there are plenty of options available for you to browse through. You can find anything from high-end brands to more cost-effective models. As an added bonus, you're more likely to find a discount online and more lens type options. But before you click "add to cart" you'll want to make sure that you know everything that you need to about the glasses you need and the glasses you're about to purchase. These are a few tips we have for people interested in making their next glasses purchase online.
Know your prescription.
There's absolutely no point in buying a new pair of glasses online if you don't know what prescription you need. As stylish as they might be, they definitely won't help you see better if you order them in an out of date prescription! Before you go shopping for a new pair of glasses online, you'll need to know what your current prescription is.
You can make an appointment with your ophthalmologist and double-check that your prescription is current and that nothing about your eye health has changed. This is also an opportunity to ask any questions about what the best glasses for you might be depending on your prescription. If you're experiencing headaches or eye fatigue, you can to discuss lens options that will help with that and make you more comfortable. If something else is going on with your eye health, the type of corrective lenses you need might be different. Your ophthalmologist can make sure that you know everything you need to about your eyes and your prescription. Once you have all the information about what kind of glasses you need, you can start looking online.
Know about your lens options
There are a few different options for lenses depending on what you're looking for.
Clear Lenses- Clear lenses are probably the most common choice for lenses. They're completely clear and they allow you to view the world naturally without ever impairing your vision as some other lense types might. They're the least expensive option and they tend to be the most flattering since they highlight your natural eye color.
Clear with Blue Blocker- Since screens are a major part of our day to day routines, glasses designed to block the harmful blue light from our eyes have been created. These lenses block all ultraviolet light up to 420 nanometers. This light can cause damage to your cornea and the lenses of your eyes. If you struggle with headaches or eye strain, these are a good way to protect your eyes a little bit more than a simple clear lens.
Transition Lenses- Transition lenses are perfect for people who need prescription sunglasses but don't want to constantly be switching their glasses when they go from inside to outside and back. They naturally protect you from sunlight, blue light, and help you see perfectly.
Polarized lenses- Polarized lenses are designed to keep the reflected light from cars, water, and snow from damaging your eyes. These are a great investment for people who are active and spend a lot of time outdoors since they protect your eyes more effectively.
Know the size of your current frame.
The frame size you currently have not only has a bearing on the lens options you might be able to take advantage of, but it also has to do with your comfort level with your glasses. If you go from having wider glasses or rimless frames to a completely different type of glasses, your aesthetic isn't the only thing that's changing. You might find that the new glasses are distracting or annoying if the lenses are smaller and now rest in your line of sight. While it might not change your decision, it's a good idea to make sure you know what kind of change you might be making if the frames you're purchasing have a different shape or size.
Do your research.
You'll want to look at product reviews, various sites, and multiple styles before you make your final decision about which glasses you want. There are so many options out there for where you can buy your glasses and what type will be best for your face that you'll need to look around to find the best fit. You can find what types of frames have features that make them more comfortable to wear all day, which are designed for wear and tear, and which are the latest styles in eyewear. Either way, you'll want to take a comprehensive look at your options before you commit.
Stay with name brand frames.
Knock-offs or generic brands are often less reliable and more likely to cause you problems down the road. They might not be as high quality or as durable and with something as critical to your comfort and day-to-day life as your glasses, you'll want to make sure you have a pair that will be reliable and effective. Name brands are name brands for a reason, and it's worth the extra money upfront to save you time and money down the road if you wind up having to purchase replacement glasses when they break. Plus, you won't have to deal with them possibly breaking at an inopportune time, like on vacation.
For most people, taking the time to go try on glasses isn't an activity they have the time or inclination for. The internet is a one-stop-shop for glasses these days and you'll be able to find a wider variety of options and discounts without ever leaving your couch. It's quick, it's easy, and it's convenient, but only if you go in knowing exactly what you need from your glasses. As long as you go through the process thoughtfully, there's no reason why you can't just purchase your glasses online. Start by knowing your prescription and your preferences and then look at well-known brands to get started. Your eyes are irreplaceable, and you want to make sure that they're protected and enhanced by whatever eyewear you choose!