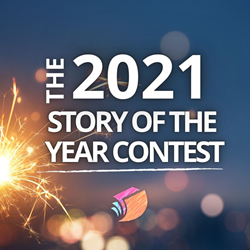 The contest offers $5,000 in prizes for compelling short stories for teens and adults that are 'easy to read, and hard to put down.'
PHILADELPHIA (PRWEB) November 02, 2021
The Story of the Year Contest is back for its fifth annual season and invites writers from around the globe to put their imaginations to the task of "sparking a love of reading." Storyshares, a nonprofit organization dedicated to inspiring reading practice and improving literacy skills, launched their call for entries on November 2, 2021. Submissions are free, unlimited, and open internationally until the contest closes on February 1, 2022. Winners will be chosen by a diverse panel of judges spanning the education and publishing fields, with announcements being made on April 5, 2022.
The contest offers $5,000 in prizes for engaging short stories for teens and adults that are "easy to read, and hard to put down." It features a $2,000 grand prize award for the most compelling story with authentically diverse characters and experiences, as well as a $1,000 prize for each of the following categories: best creative nonfiction, best coming of age tale, and best story taking place against the backdrop of a U.S. state.
Those familiar with the Story of the Year contest know that it is so much more than an average writing competition; it's a mission. In addition to one finalist per category, all writers who create engaging stories within the unique parameters of Storyshares guidelines will have their work published in the Storyshares library before a wide, established, and ever-growing audience of teens and young adults from middle school, high school, and above who struggle with reading. Storyshares provides the tools and resources to help writers craft books that combine culturally relevant and interesting content with approachable language and formatting. This powerful style of book has turned many hesitant readers into avid ones.
"Our writers and the stories they submit have an enormous impact. Tens of millions of teens and young adults lack the literacy skills needed to read the books written for their age and interests," says Louise Baigelman, cofounder and executive director of Storyshares. "That's why we've created stories that meet them at their individual intersections of interest and ability. Stories that they can read, and want to read. Each book reaches thousands upon thousands of students, improving their abilities to read and write while preparing them for greater academic and professional success."
The National Center for Education Statistics shows that over 750 million teens and adults across the globe lack the crucial literacy skills needed to stay informed, learn, and even participate fully in society. Reading is a fundamental life skill, and an absence of this ability negatively impacts every aspect of life, from academic performance to building a career, to everyday communication. That's what Storyshares is here to change.
Our annual writing contest aims to provide writers with the tools, guidance, and incentives to join in expanding our unique library of stories. The highest quality submissions we receive are published in both digital and print form, and distributed through our e-reader website, Amazon bookstore, and our many great education partners. We are incredibly proud of the 300+ stories published so far (from thousands of submissions) and are eager to continue building out diverse shelves for today's readers.
Together with our writers, we are reimagining the books in the global library—to spark a love of reading for the millions of readers who have been overlooked.
--------------------------------------------------------------------------------------------------------------------------
ABOUT STORY SHARES
Storyshares works to empower and inspire struggling readers of all kinds, including English language learners, students with learning disabilities such as dyslexia, and students from low-income communities who have fallen behind in reading. The organization has been recognized by The Library of Congress, Forbes, the International Literacy Association, and Teach for America for its innovative approach and impact in the field. Their work is a testament to the belief that, "everyone is a reader, some just haven't found the right book yet."
More information about the "Story of the Year" writing contest including contest guidelines, categories, submission instructions, and official contest rules is available at http://www.storyshares.org/contest