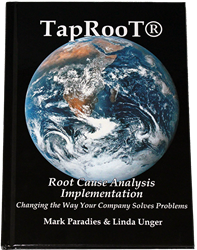 The first secret? Obtain accurate, complete, necessary information to understand what happened. If you try to analyze assumptions, you will be guessing at the root causes, arriving at nothing better than a hypothesis.
KNOXVILLE, Tenn. (PRWEB) October 16, 2020
System Improvements Inc. is pleased to share the 7 Secrets of Successful Root Cause Analysis, to spread the news about its effective, thorough, and credible root cause analysis training through TapRooT®, and to extend an invitation to the 2021 Global TapRooT® Summit in Knoxville, Tennessee, June 14-18.
In the 7 Most Important Secrets of Successful Root Cause Analysis, the first tip shared is a key foundation for reliable root cause analysis:
1. Your root cause analysis is only as good as the information you collect. Many root cause systems operate as a "standalone" module. Information goes in and an answer comes out, without helping investigators collect accurate information. Some root cause tools actually develop a hypothesis first, then assimilate information to verify or disprove the hypothesis. Extensive research has proven that once an investigator becomes invested in a particular hypothesis, her/his brain automatically looks for "facts" to confirm the hypothesis and disregards "facts" that are counter to the hypothesis, resulting in the investigator finding what she/he wants to find.
2. Your knowledge (or lack of it) can get in the way of a good root cause analysis.
3. Understand what happened before why it happened. Beginning by asking "Why" is jumping to conclusions. This often leads the investigator to presume, rather than seeking to understand.
4. Interviews are not about asking questions.
5. All human performance problems cannot be solved with discipline, training, and procedures.
6. Many people cannot see effective corrective actions even if they can find the root causes.
7. All investigations do not need to be created equal (but some investigation steps cannot be skipped).
Learn more about the 7 Secrets and thorough and credible root cause analysis in the article.
Please contact System Improvements Inc. at 865.539.2139 to discuss the role of TapRooT® Training in your organization.
About System Improvements Inc. – TapRooT®
Founded in 1988, TapRooT® solves hurdles every investigator faces. TapRooT® root cause analysis takes an investigator beyond his or her knowledge to think outside the box. Backed with extensive research in human performance, incident investigation, and root cause analysis, TapRooT® is a global leader in improved investigation effectiveness and productivity, stopping finger-pointing and blame, improving equipment reliability, and fixing operating problems.