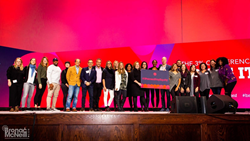 "Pay equity is not just important for employees' financial well-being, engagement and productivity, it's also fundamental to agencies' capacity for creativity and growth." ~Amanda Enayati, Head of Culture Innovation for The 3% Movement
SAN FRANCISCO (PRWEB) November 15, 2018
Seventeen agencies have ensured equal pay in their workplaces by becoming founding members of the 3% Pledge for Pay Equity.
The gender pay gap is still a prominent issue for working women and their families, and as the creative industry's leading voice for women and diversity overall, The 3% Movement has developed an opportunity for advertising agencies to bridge the gap. The 3% Pledge for Pay Equity encourages agencies who have conducted or are planning to conduct wage audits and displayed a commitment to equal pay, to be the first to sign up and become founding members of the 3% Pledge for Pay Equity.
Through its research, consulting and 3% Certification programs, The 3% Movement has learned that despite pay equity analyses and dedication by agencies, there's still widespread skepticism around equal pay in the workplace. In fact, according to The 3% Movement's proprietary Belonging, Inclusion, Leadership and Talent (BILT) survey, over 40% of women at creative agencies report they believe they are not being paid comparably to their male peers – even at those agencies that have completed wage audits and made adjustments accordingly.
The 3% Pledge for Pay Equity is a way for The 3% Movement and agencies to work together to help solve the disconnect between women and equal pay in a way that offers communication, collaboration and action.
The signatory agencies have committed to upholding three distinct pillars:

Agencies have conducted a wage review within the last two years or plan to within the next 12 months;
Agencies have ensured true pay equity by rectifying like-for-like disparities or will do so following review;
Agencies have committed to advancing pay equity through collaboration, communication and continued identification and promotion of best practices to close the wage gap in the advertising industry.
The following are being recognized as Founding Agencies of the 3% Pay Equity Pledge:

Bartle Bogle Hegarty (BBH)
Campbell Ewald
Deutsch
Doner
Eleven
Forsman & Bodenfors New York
Foote, Cone & Belding (FCB)
Golin
Havas
Mekanism
Momentum Worldwide
PMG
Swift
The Martin Agency
Vladimir Jones
Wong Doody
Zambezi
During the 7th annual 3% Conference in Chicago from Nov. 8-9, 2018, these agencies will receive special acknowledgement for their commitment to rectifying the gender pay gap. In addition, The 3% Movement will create an ongoing feature on its website to highlight agencies that sign the pledge.
The 3% Movement, working with the Pledge for Pay Equity Founding Agencies, will extend the impact of the Pledge by developing tools, sharing research and best practices, and hosting seminars and convenings, with the goal of creating and driving momentum in the movement to close gender pay gaps.
"We honor and congratulate the Founding Members of the 3% Pledge for Pay Equity for their commitment to driving the momentum to close gender pay gaps in our industry," says Amanda Enayati, Head of Culture Innovation for The 3% Movement. "Pay equity is not just important for employees' financial well-being, engagement and productivity, it's also fundamental to agencies' capacity for creativity and growth. In our consulting work with agencies across the country, we discover again and again that pay equity is seen by people as one of the most important work-related issues. "
If you'd like to sign or learn more about the 3% Pledge for Pay Equity, please visit: http://3PercentPayEquity.com.
ABOUT THE 3% MOVEMENT
Started as a passion project to spotlight a huge business opportunity in advertising -- the lack of female creative leadership and its impact on connecting with an overwhelmingly female marketplace -- the 3% Movement has grown exponentially since its 2012 launch and has hosted events in 24 cities globally. Moving beyond awareness to activation, the 3% team now offers consulting services with agencies and brands to support more diverse leadership and a 3% Certified program that awards those companies demonstrating true leadership around gender diversity. For additional information about The 3% Movement, please visit: http://3percentmovement.com.