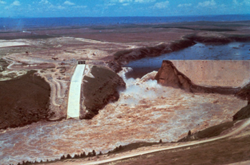 We are on the cusp of a major recognition that our dams need to be retrofitted, redesigned, reconstructed and in some cases, completely removed.
RAPID CITY, S.D. (PRWEB) May 21, 2020
The increasing frequency of major flooding in parts of the United States coupled with dam failures such as the breached Edenville and Sanford dams in Michigan should serve as a warning on the vulnerability of our infrastructure during extreme weather, according to Mark Anderson, an instructor at South Dakota School of Mines & Technology's Department of Civil and Environmental Engineering.
"The nation's water infrastructure is in need of engineering attention," says Anderson, who previously served as the director of the United States Geological Survey (USGS) Dakota Water Science Center in Rapid City, and has spent his career working on water issues.
These challenges highlight the need for scientists and engineers trained at institutions like South Dakota Mines. Civil engineers can lead the way in innovative renovations to existing infrastructure and designs for new dams, bridges and roads that are more resilient to withstand a changing climate. Environmental engineers can help design new infrastructure that works in harmony with the natural world. Scientists like meteorologists and climatologists can lend to the understanding of what is coming and what society will need to do to prepare.
The United States Army Corps of Engineers National Inventory of Dams shows 15,491 are classified as "high" hazard dams with another 11,333 that are "significant" hazards. On the high hazard list was the Edenville Dam that failed catastrophically on May 20, 2020. A 2011 report by the Congressional Research Service titled "The Bureau of Reclamation's Aging Infrastructure" points out that most Reclamations dams have an average age of over 50 years. It is now 10 years later.
Climate change adds another level of complexity to the challenge of ageing water infrastructure, Anderson says. "Many of the dams weren't built or designed to cope with increased weather variability now being documented," says Anderson. An article in Science magazine, "Stationarity Is Dead: Whither Water Management?" points out that greater rainfall and streamflow means the criteria engineers used - based mainly on historical observations - to design thousands of dams around the United States no longer holds true. "We need scientists and engineers to help us migrate to the next better design system," says Anderson.
When dams fail, major loss of life can occur. The Association of State Dam Safety Officials have a number of case studies on their Lessons Learned page. Anderson points to the 2019 collapse of the Spenser Dam on the Niobrara River in Nebraska and the 2017 near collapse of the Orville Dam in California which forced the evacuation of about 200,000 people, as two examples that should serve as a warning today. Repair of the Orville Dam is now expected to exceed $1.1 billion and that is just one dam among thousands that need attention.
"We are on the cusp of a major recognition that our dams need to be retrofitted, redesigned, reconstructed and in some cases, completely removed when modern environmental concerns prevail," says Anderson. Fish passage and restoration of the salmon habitat tilted the balance for removal of the Elwha and Glines Canyon Dams in Washington State and the Marmot Dam in Oregon. Scientists and engineers led the schedule of deconstruction, with data that predicted sediment release and salmon repatriation. Anderson says the Bureau of Reclamation and other regulatory agencies do a fantastic job with the resources they have. But he adds that "these are complex problems that will take resources and a lot of science and engineering expertise."
Both the Missouri and Mississippi River Basins saw major flooding in 2019. It was the wettest year on record in some parts of these watersheds. One report shows record river levels were reached in locations across six states. In many areas, the ground remains saturated as the 2020 spring and summer wet season approaches. "Increased rainfall also means that more precipitation is shunted towards surface and river runoff rather than further soil water storage. This enhances local flood risk and adds up over a river basin," says Bill Capehart, Ph.D., who leads the Atmospheric and Environmental Sciences program at South Dakota Mines.
"Risks to our aging infrastructure are not just limited to dams," says Capehart. In 2019, Interstate 90 in eastern South Dakota was closed for the first time in its history because of water flowing over the driving surface. "Overall, our national infrastructure is losing resiliency with the existing climate before factoring in the potential of climate change." Anderson adds that ageing and vulnerable infrastructure includes water treatment and distribution systems across the country. Many of these systems lie in floodplains or along coastal areas that can be threatened by a changing climate.
A 2017 report by the American Association of Civil Engineers gave our overall national infrastructure grade a "D+." The American Road and Transportation Builders Association also recently reported that Great Plains states including South Dakota, North Dakota and Iowa had more than 10% of their bridges listed as structurally deficient. Some of the impacted bridges are part of the heavily traveled interstate highway system. Capehart says climate change will bring an increase in extreme events. "On top of this, lower-intensity 'nuisance' events will likewise become more frequent, creating more instances of damage that are often absorbed by property owners rather than insurance and large-scale relief programs," says Capehart.