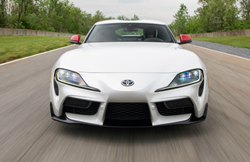 VACAVILLE, Calif. (PRWEB) July 25, 2019
After a 21-year hiatus, the iconic Toyota is making a triumphant return to the United States. The all-new 2020 Toyota Supra delivers on many fronts, with its sleek styling, robust turbocharged engine, excellent driving dynamics and many advanced technologies. Toyota Vacaville, which is located at 500 Orange Drive in Vacaville, will soon offer the 2020 Supra. Customers can make a reservation for the sports car on Toyota Vacaville's website.
Along with classic design cues that pay homage to Supra models of yesteryear, notable exterior elements of the 2020 Supra include the expressive front fascia, the double-bubble roof design, the arching rear integrated spoiler, the trapezoidal-shaped rear bumper and the six-lens LED headlights. Inside the 2020 Supra, the wrap-around cockpit will put Supra owners in the mood for driving — and the sport seats have racing-inspired integrated head restraints, while providing a high level of comfort for everyday driving.
Under the hood of the 2020 Supra is the sophisticated 3.0-liter turbocharged inline six-cylinder engine. With its direct fuel injection system, twin-scroll turbocharger and continuously variable timing, it doles out 335 horsepower and 365 lb-ft of torque. With the powerful engine and smooth-shifting 8-speed automatic transmission, the Supra can go from zero to 60 mph in only 4.1 seconds and can reach a top speed of 155 mph.
For an even higher level of performance, the 2020 Supra has a Sport Mode, which increases the steering responsiveness, sharpens the throttle response and amplifies the exhaust sound. Additional performance features in the 2020 Supra include an active differential, the Adaptive Variable Suspension and high-performance wheel hubs.
Prospective 2020 Supra buyers are encouraged to make a reservation on Toyota Vacaville's website (http://www.toyotavacaville.com). The dealership can be reached via telephone at (707) 446-7000.
Toyota Vacaville is located at 500 Orange Drive in Vacaville.