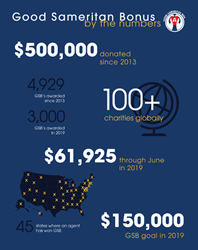 "When you look at the list of names, you start to realize the difference we are making for others. A lot of these charities help people all around the world. The number of lives we are impacting is amazing when take a minute to think about it."Andy Albright, President and CEO of The Alliance
BURLINGTON, N.C. (PRWEB) July 18, 2019
National Agents Alliance, aka The Alliance, surpassed the $500,000 mark in donations to charities and non-profit organizations through its Good Samaritan Bonus program, which started in 2013, the company announced on July 18.
To date, The Alliance has supported more than 100 different charities globally and a total of 4,929 GSB checks have been earned by agents since 2013. More than 3,000 checks have been won in 2019, which amounts to more than $70,000 in charitable donations. In 2018, The Alliance awarded $133,350 to charity and donated another $148,200 in 2017.
The Good Samaritan Bonus is an incentive program for members of The Alliance to select their favorite charity to donate money to in an effort to further their cause. Each monthly GSB award ranges from $25 to $250, meaning top agents can donate up to $3,000 to charity annually.
The company is on pace to donate more than $130,000 this year through the GSB program based on current projections.
Andy Albright, president and CEO of The Alliance, said he loves seeing the list of charities and organizations the company has helped through the GSB program.
"When you look at the list of names, you start to realize the difference we are making for others," Albright said. "A lot of these charities help people all around the world. The number of lives we are impacting is amazing when take a minute to think about it."
The Alliance has supported organizations like Make-A-Wish, St. Jude Children's Hospital, Duke Children's Hospital, Tim Goad International, Rotary International, Alzheimer's Association, Wounded Warrior Project, Big Brothers Big Sisters, JDRF, Boys & Girls Clubs of America, Hope For Haiti, Autism Speaks, Polycystic Kidney Disease Foundation, the Sydney Caudle Memorial Scholarship and Primary Children's Hospital. Additionally, agents have selected local churches and community programs that might not be known on a large scale but that make a major impact in the cities and towns where members of The Alliance live.
Numerous agents personally match the GSB donation with a check of their own. That's something that was at the heart of the GSB program when Albright launched it.
"I wanted people to experience the feeling you get from being able to help others," Albright said. "I have had so many agents tell me that they had never written a check for a charity until now. They talk about how good it made them feel to be able to do that. That's a powerful feeling, and it is all about being able to help more people in need."
Some of the charities are large, but many are local, community-based groups.
"We don't care if the charity is big or small, because every person helped matters to us," Albright said. "We want to prosper and help inspire others to do the same. When you can help a charity, a lot of times it inspires more people to do the same thing. The GSB is a way to reward our agents for working hard to be successful. We plan to give out a lot more checks this year."