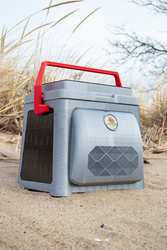 The Swiss Army Knife of Buckets
NEW YORK (PRWEB) June 11, 2019
One of the best and most innovative work and lifestyle product ideas is being presented in an exciting new Kickstarter launching today on Kickstarter, The Amazing Bucket! But don't let the name fool you. The Amazing Bucket is a whole lot more than just the world's greatest bucket! The Amazing Bucket ™ is the twenty-in-one ultimate utility system for home, auto, work and recreational use. It has everything a homeowner, vehicle owner or tradesmen such as a carpenter, plumber, electrician or automotive detailer could need in one compact and easy to use configuration! Features include:

Water Proof Blue Tooth Speaker
4000 mAh charging port
2 Compartment / 22 qt. Beach Cooler
2 Level Anti Slip Step Stool
2 level Cushioned work seat
2 part Cushioned Kneeling Pad
Tool / Hobby / Fishing / Storage Box
Car wash bucket with Sediment Strainer™ insert
House cleaning and general use bucket
Ice & Beverage Party Bucket with integrated Stainless Steel Bottle Opener
LED Flashlight
Great item to keep in the house, yard or the garage! Also great for parties, the beach or at the park! The AMAZING Bucket ™ is one product that everyone could find a use for! The campaign details can be found here:
The Amazing Bucket on Kickstarter
------------------------------------------------------------------------------------------
The Amazing Company, LLC
The Amazing Company was founded in January 2018 by Tom Lombardino. Tom is currently CEO of Synergistic™ Management LLC, a multi-faceted consulting company that helps small businesses develop innovative solutions and approaches in sales process development, management and marketing. Tom has an educational background in Mechanical Engineering received from New York Institute of Technology and is also an avid Inventor and Designer. Tom's full business background can be found HERE on LinkedIn
The Amazing Bucket is the first product being released by The Amazing Company. Following a successful launch on Kickstarter, the company has several other lifestyle consumer products under development for future release. All Amazing products feature unique and proprietary designs, high quality construction and value pricing. The company's mission is to donate 5% yearly profits to Big Brothers Big Sisters of America, a mentorship program for underprivileged children that inspires educational achievement, eliminates juvenile delinquency and promotes higher self-esteem, self-confidence and improved social skills for children in high risk environments.
For more information, contact:
Taylor Marie
synergisticmanagement(at)gmail(dot)com
833.800.2776