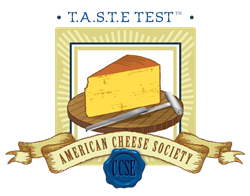 "Cheese is an art, a science, and a passion for those who make, care for, and share it with consumers – these certifications recognize that complexity and the expertise required to work in the industry at the highest levels."
DENVER (PRWEB) September 04, 2018
Top industry professionals gathered last month in Pittsburgh at the American Cheese Society's Annual Conference & Competition to test their knowledge of all things cheese. Now, the American Cheese Society (ACS) has announced the 149 individuals who rose to the challenge and passed its 2018 industry certification exams: 120 individuals passed the eighth Certified Cheese Professional® Exam and 29 individuals passed the inaugural ACS T.A.S.T.E. Test™, the first and only professional sensory exam of its kind in the cheese industry.
ACS first established itself as a leader in industry certification with the ACS Certified Cheese Professional® (CCP) Exam, launched in 2012. The exam encourages high standards of comprehensive cheese knowledge and service for professionals across the industry and encompasses a broad range of topics including raw ingredients, the cheesemaking process, storing and handling cheese, selecting distributors, marketing and communicating about cheese, nutrition, and regulations and sanitation. Individuals who pass earn the title of ACS Certified Cheese Professional® or ACS CCP®, a formal recognition of their expertise. There are currently nearly 1,000 ACS CCPs® in the United States, Canada, Mexico, Australia, and the United Kingdom. The 2018 class of ACS CCPs represents 44 different companies.
The ACS T.A.S.T.E. Test™ (Technical, Aesthetic, Sensory, Tasting Evaluation) is a hands-on exam that evaluates cheese professionals' knowledge and skills in the assessment of cheese, from determining cheese condition and quality, to evaluating cheese flavor, body, texture, and appearance. Newly launched in 2018, it is the second industry credential offered by the ACS. Individuals who pass demonstrate exceptional skill in evaluating cheese and earn the title of ACS Certified Cheese Sensory Evaluator™ or ACS CCSE™. The 2018 class of ACS CCSEs™ represents 20 different companies. Twenty-four of the 29 individuals who passed the 2018 ACS T.A.S.T.E. Test™, or 83%, had previously earned their ACS CCP® credential.
"ACS is committed to education and establishing meaningful standards that elevate cheese industry professionalism," says ACS Executive Director Nora Weiser. "Cheese is an art, a science, and a passion for those who make, care for, and share it with consumers – these certifications recognize that complexity and the expertise required to work in the industry at the highest levels."
Each ACS CCP® and ACS CCSE™ receives an official lapel pin, embroidered patch, and signed certificate. These individuals are required to demonstrate continued active participation and professional development within the cheese industry to maintain their credentials, and they must recertify every three years.
For a full directory of ACS CCPs® and ACS CCSEs™, visit https://tinyurl.com/acs-certification-directory.
The next seating of these exams will be July 31, 2019 in Richmond, VA. Cheese professionals who meet the eligibility requirements outlined on the ACS website are encouraged to apply early, as space is limited. Applications will be accepted from January through March 2019.
To learn more about the exams, visit http://www.cheesesociety.org.
About the American Cheese Society (ACS)
ACS is the leading organization supporting the understanding, appreciation, and promotion of artisan, farmstead, and specialty cheeses produced in the Americas. At more than 1,800 members strong, ACS provides advocacy, education, business development, and networking opportunities for cheesemakers, retailers, enthusiasts, and extended industry. ACS strives to continually raise the quality and availability of cheese in the Americas. For more information, visit http://www.cheesesociety.org.