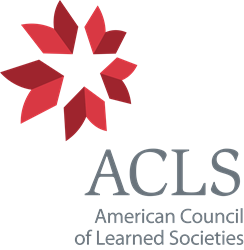 The breadth and depth of the 25 research projects chosen for this fellowship are excellent examples of the power of humanistic scholarship to illuminate human endeavor across time and space — tackling both long-standing questions in philosophy, history, and critical interpretation and the wicked pro
NEW YORK (PRWEB) March 19, 2020
The American Council of Learned Societies (ACLS) is pleased to announce the 2020 Frederick Burkhardt Residential Fellows.
This year's cohort of 25 diverse humanities and social sciences scholars is the largest in the program's 21-year history, a testament to the aspirational and creative culture represented by humanities and related social sciences scholars across the country. Each of these fellows has shown exceptional dedication to advancing their fields though ambitious and groundbreaking scholarly research.
Burkhardt Fellowship recipients are recently tenured academics who will each receive a $95,000 stipend and a $7,500 research budget to support large-scale, multi-year humanities and social sciences research projects. The program is made possible by a grant from The Andrew W. Mellon Foundation.
"Even in a time of great uncertainty, we want to take a moment to recognize the strength and value of this important scholarly community," said Joy Connolly, ACLS President. "The breadth and depth of the 25 research projects chosen for this fellowship are excellent examples of the power of humanistic scholarship to illuminate human endeavor across time and space — tackling both long-standing questions in philosophy, history, and critical interpretation and the wicked problems facing our world today. The beauty of the Burkhardt program has been its ability to provide a generation of brilliant minds with the room, resources, and ideal scholarly communities to 'think big' about ways to respond to social challenges and contribute to deeper understanding and positive change in our world."
Projects by selected 2020 Burkhardt Fellows include:

See the full list of 2020 Frederick Burkhardt Residential Fellows here.
This year marks the final competition for this fellowship, which has supported nearly 275 scholars with close to $30 million in funding since 1999. In addition, the Burkhardt Residential Fellows program has been powered by strong partnerships, including 13 residential research centers – the Library of Congress, National Humanities Center, and the Huntington Library among them – which provide access to incomparable intellectual networks.
"Fellowship is about building community – in this case, an intellectual community that both challenges and supports its members," noted D. Bradford Hunt, Vice President for Research and Academic Programs at the Newberry Library in Chicago, another long-time program partner. "The dozen Burkhardt Residential Fellows ensconced at the Newberry over the past two decades brought lively research agendas and generous collegiality to our fellowship table. We are grateful to the ACLS Burkhardt program for supporting our community building efforts."
The 2020 Burkhardt Fellows follow in the footsteps of past recipients including Katherine Bergeron (2001), president of Connecticut College; Christopher S. Celenza (2003), dean of Georgetown College at Georgetown University; and Jennifer Summit (2006), provost of San Francisco State University.
The fellowships are named for the late Frederick Burkhardt, president of ACLS from 1957-74, whose decades of work on The Correspondence of Charles Darwin constitute a signal example of dedication to a demanding and ambitious scholarly enterprise.
For more information about ACLS Fellowship and Grant Programs, including application criteria and deadlines, visit http://www.acls.org/Programs.
About the American Council of Learned Societies
Formed in 1919, the American Council of Learned Societies (ACLS) is a nonprofit federation of 75 scholarly organizations. As the preeminent representative of American scholarship in the humanities and related social sciences, ACLS holds a core belief that knowledge is a public good. As such, ACLS strives to promote the circulation of humanistic knowledge throughout society. In addition to stewarding and representing its member organizations, ACLS employs its $140 million endowment and $35 million annual operating budget to support scholarship in the humanities and social sciences and to advocate for the centrality of the humanities in the modern world.