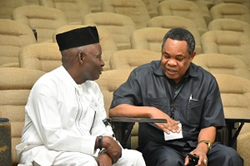 "Supporting African Humanities Program scholars and the strong community of Africa-based academics built over the past decade is an important investment in the future of the humanities." - ACLS President Joy Connolly
NEW YORK (PRWEB) September 11, 2020
The American Council of Learned Societies (ACLS) has named 44 African scholars as African Humanities Program (AHP) Fellows for 2020. They join 10 previous annual cohorts of awardees in an international network that works to reinvigorate the humanities in Africa. The program is supported by the Carnegie Corporation of New York and administered by ACLS.
AHP supports early-career scholars with stipends of $20,000 that allow recipients an academic year free from teaching and other duties to focus on revising dissertations for publication or to advance their first major research project after the PhD. Fellows are also eligible for additional benefits such as residential stays at African institutes of advanced study for writing and research, manuscript development workshops, and publication support.
The 2020 AHP Fellows represent a wide range of academic institutions in Sub-Saharan African countries. Their research topics include an examination of the power of humor and comedy as part of peacebuilding in post-apartheid South Africa; a study of masculinity and victimhood in northeast Nigeria; and a social history of the Konkomba, a historically marginalized people in northern Ghana, and their contributions to debates on mobility, marginality, and belonging in Africa.
"Supporting these scholars and the strong community of Africa-based academics built over the past decade is an important investment in the future of the humanities," said ACLS President Joy Connolly. "Even in this time of global uncertainty, ACLS remains committed to advancing humanistic scholarship by amplifying innovative research and elevating emerging voices in fields that continue to gain influence around the world through their studies of human experiences of the past, present, and years to come. We are deeply grateful to the Carnegie Corporation of New York for their support of the groundbreaking program. Congratulations to all of this year's fellows!"
Learn more about the African Humanities Program.
The deadline for applications for the 2020-21 AHP competition is December 4, 2020. Apply now. Contact ahp@acls.org for more information.
Formed in 1919, the American Council of Learned Societies (ACLS) is a non-profit federation of 75 scholarly organizations. As the preeminent representative of American scholarship in the humanities and related social sciences, ACLS holds a core belief that knowledge is a public good. As such, ACLS strives to promote the circulation of humanistic knowledge throughout society. In addition to stewarding and representing its member organizations, ACLS employs its $140 million endowment and $35 million annual operating budget to support scholarship in the humanities and social sciences and to advocate for the centrality of the humanities in the modern world.
Since 2008, the African Humanities Program (AHP) has worked to reinvigorate the humanities in Africa through fellowship competitions and related activities in Ghana, Nigeria, South Africa, Tanzania, and Uganda. In partnership with Carnegie Corporation of New York, which has generously provided funding, AHP has offered African scholars an integrated set of opportunities to develop individual capacities and to promote formation of scholarly networks. The African Humanities Program has supported the Carnegie Corporation's mission to develop and retain African academics at universities in Africa. In the preceding AHP competitions (2009-20), more than 400 early career Fellows received research support and more than 100 senior scholars served as peer reviewers and mentors.