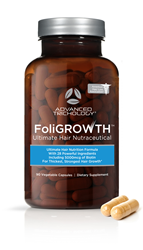 CARLSBAD, Calif. (PRWEB) January 26, 2022
For the first time since its inception over 20 years ago, the American Hair Loss Association has accepted Advanced Trichology's collection of nutraceutical products for hair loss, hair growth, and scalp health as a Trusted Brand. It's the association's first and only nutraceutical and non-minoxidil topical formula approval.
Founded by certified trichologist William Gaunitz, FWTS, Advanced Trichology has normalized and increased the conversation surrounding hair loss, taking customers on a journey from discovering the root cause of their hair loss or thinning to receiving a bespoke plan to stop the loss and regrow hair to reigniting confidence.
The American Hair Loss Association is the United States' only non-profit organization dedicated to advocating for consumers suffering from hair loss. Providing education, resources, and support, the organization is the trusted and respected society for the medical community, media, and general public.
Beginning January 2022, the following items will feature the American Hair Loss Association seal, widely considered the gold standard in the hair loss industry, on all packaging:
FoliGROWTH Vitamin - An ingestible powerhouse that delivers the body a combination of 28 powerful herbs and vitamins to create the ultimate foundation for maximum hair growth, FoliGROWTH was developed using clinical research at the Evolution Hair Loss Institute, the clinical counterpart of Advanced Trichology. Specifically designed to target nutritional hair loss, the most common type of loss, FoliGROWTH helps maximize the bioavailability of vitamin D3, iron, and B complex for nutritional uptake into the hair.
DHT Blocker with Immune Support - Targeting pattern hair loss, the DHT Blocker exclusively functions to mitigate DHT impact on hair follicles. The combination of high-quality ingredients can boost blood circulation to encourage new hair follicle growth, help collagen fibers interlock, heighten the production of keratin and collagen, improve digestion, enhance nutrient absorption and boss the immune system.
NutraM Revitalizing Scalp Serum – Pairing melatonin with natural DHT blockers, the topical serum works to reduce the effects of thinning hair and is designed to also help calm telogen effluvium, reduce shedding, and assist in hair regrowth. It has also been said to decrease seborrhea and seborrheic dermatitis on the scalp.
DermaIron – Developed in conjunction with dermatologist Dr. Brooke Blumetti, DermaIron features iron bisglycinate paired with 50mg of natural vitamin C from cherry juice to increase absorption plus 200mg of marine collagen. The core ingredients are mindfully paired together to optimize iron restores in the body for maximum positive outcomes.
EFA Complete - Consuming healthy fats in the form of omega 3- 6 -9 can help reduce inflammation and soothe any itching and burning. Created to enhance the thickness and texture of hair, EFA Complete also features evening primrose oil, borage oil, and organic flaxseed oil.
"After 20 years in the trichology industry, I'm so pleased to announce that the research, development, and science that was poured into the Advanced Trichology nutraceutical and the non-minoxidil collection has been accepted by the American Hair Loss Association as a Trusted Brand. It's an honor to be holding this seal of acceptance from the prestigious organization and it's a recognition that we don't take for granted," says William Gaunitz, FWTS, founder of Advanced Trichology. "With unparalleled research, Advanced Trichology provides the latest and most thorough evidence-based approach to hair loss. I'm proud of the team that has helped build Advanced Trichology and am looking forward to what's next for the company."
"Advanced Trichology has a proven commitment to in-clinic research, customer care, and quality. Advanced Trichology is the first dietary supplement brand to be awarded the American Hair Loss Association's Trusted Brand status," says the President of the American Hair Loss Association.
Gaunitz's formal education in trichology, where he trained in London at the International Association of Trichology, studied diagnostics in France, and discovered hair loss treatments in Australia, has turned into a rapidly growing business collective that includes a consultation practice, consumer products, coordination of global conferences and being invited to be a fellow at the World Trichology Society.
For more information on Advanced Trichology, please visit http://AdvancedTrichology.com and https://www.americanhairloss.org/trusted_brand/verify/advanced-trichology.html.
For more information on the American Hair Loss Association, please visit AmericanHairLoss.org.
###
*These statements have not been evaluated by the Food and Drug Administration nor The American Hair Loss Association. This product is not intended to diagnose, treat, cure, or prevent any disease or health condition. The American Hair Loss Association does not warranty or guarantee results and does not provide any form of remedy for any product bearing The American Hair Loss Association name, logo, seal, and/or trademark. Results vary.