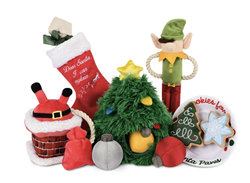 According to APPA's 2019-2020 National Pet Owners Survey, 73 percent of dog owners and 62 percent of cat owners purchase gifts for their pet.
STAMFORD, Conn. (PRWEB) September 22, 2020
With the holiday season just around the corner, the American Pet Products Association (APPA) is reminding pet owners that it's never too early to start holiday shopping for pets. According to APPA's 2019-2020 National Pet Owners Survey, 73 percent of dog owners and 62 percent of cat owners purchase gifts for their pet. That means over a third of dog owners and a quarter of cat owners will be adding their pets to their gift lists! Below are products manufactured by APPA members to help pet owners get started on their holiday shopping for the furry members of the family.
Pet owners can gift gourmet Gingerbread Dog Treats by Lord Jameson this holiday season. Inspired by a family recipe, they are made with a tasteful combination of all-natural plant based superfoods including organic ginger, gluten free oats, and roasted peanut butter. Dogs won't be able to resist this holiday favorite. Plus, they are vegan.
Price: $12.99
http://www.lordjameson.com
Dogs will be filled with Hanukkah happiness when they dig into the Zippy Burrow Star of David by ZippyPaws! Once pups have all the little golden yellow coins pulled from the burrow, they'll be begging their owner to put them back in again and again for hours of festive fun! It's the perfect interactive toy for keeping dogs busily engaged in hide-and-seek play!
Price: $13.99
http://www.zippypaws.com
Spice up pets' walking attire with West Paw's new line of Holiday Collars and Leashes. Safe, durable and comfortable, both collar and leash come in three festive prints. Handcrafted in Bozeman, Montana, the webbing is made from recycled plastic bottles making both products eco-friendly.
Price: Starts at $19.95
http://www.westpaw.com
Being good all year can be "ruff", so rewarding pets with the Merry Woofmas Plush Toy Collection by Pet Lifestyles and Play is the ultimate gift. The set includesfive cheerful toys in the shape of a hang-able stocking, tasty plate of cookies, ornament filled Christmas tree, tug-able elf and a silly Santa and makes a great gift for households with more than one pet.
Price: $57.50
http://www.petplay.com
The Merry Medley Cat Toy Bundle from SmartyKat is the purrfect toy pack with 16 catnip filled toys to give cats the stimulation they need and crave. All toys are made from 100 percent recycled plastic and other sustainable material.
Price: $19.99
http://www.smartycat.com
Baking cookies is a tradition most families enjoy during the holidays and now dogs can feel included. Santa Paws Treats from Claudia's Canine Bakery are hand-made with human grade ingredients and look so good they'll give the human versions some festive competition. Every package includes 50 cookies, enough to share with pets and their pals.
Price: $14.99
http://www.claudiascaninebakery.com
For more information, product samples, images or interview opportunities, please contact Liz Freeman at 916-606-8795 or liz@theimpetusagency.com.
-###-
The American Pet Products Association (APPA) is the leading trade association serving the interests of the pet products industry since 1958. APPA membership includes more than 1,100 pet product manufacturers, their representatives, importers and livestock suppliers representing both large corporations and growing business enterprises. APPA's mission is to promote, develop and advance pet ownership and the pet product industry and to provide the services necessary to help its members prosper. APPA is also proud to grow and support the industry through the following initiatives: Pets Add Life (PAL), Tony La Russa's Animal Rescue Foundation (ARF) Pets and Vets Program, the Human Animal Bond Research Institute (HABRI), the Pet Industry Joint Advisory Council (PIJAC), Bird Enjoyment and Advantage Koalition (BEAK), and the Pet Care Trust. Visit http://www.americanpetproducts.org for more information.