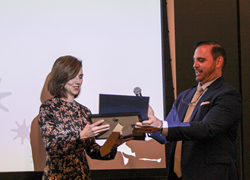 Thank you very much; I appreciate the honor and recognition! I think it's really important to create recognition and I'm cheering you [Analytics Hall of Fame] on!
NEW YORK (PRWEB) April 04, 2019
Analytics pro's celebrated as 14 of their colleagues were recognized by the Analytics Hall of Fame – a global network of analytics, insights, data, digital, and research professionals. Tony Branda, Ph.D., founder, continued the inaugural induction ceremony, saying:
"We are now entering a 'golden age' of analytics. In this new age, it is time for practitioners and academics of analytics to have their own Hall of Fame (Analytics Hall of Fame) providing a well-deserved center stage to recognize unsung heroes and increase professional visibility."
The Hall of Fame honored nine Global Leaders:
https://analyticshalloffame.com/global-leaders/

Beth Comstock, former Vice Chair and CMO of GE. Author and leader on Change and Innovation
V. Kumar, Editor in Chief of the Journal of Marketing and Director of the Marketing Ph.D. Program at Georgia State University. Best Selling Author of CRM Books
Tom Davenport, academic, author, and one of the top business/technology analysts in the world. Best Selling Author of books on AI and Analytics
Bill Franks, Chief Analytics Officer of the International Institute for Analytics and past CAO of Teradata
Vishal Kumar, researcher, educator, and founder of Analytics Week (One of the most visited websites for analytics professionals)
Heather Wilson, Big Data and Analytics expert with C-Level roles at Kaiser Permanente, Citigroup, AIG, and L Brands
Marcia Tal, developer of the Global Decision Management function at Citi and founder of Tal Solutions
Randy Bean, Founder, and CEO of NewVantage Partners, and recognized industry authority in Big Data, AI, and business innovation. Contributor to numerous publication on Analytics and AI topics
Gina Papush, Global Chief Data and Analytics Office at Cigna Corporation, with former leadership roles at QBE Insurance Group, Citigroup, Fulcrum Analytics, and GE Capital
Industry Leaders that were recognized include:
https://analyticshalloffame.com/industry-leader/
Carmel La Sala, Senior Analytics leader at both Citibank and Chase. Collaborator with key business partners and successful analytics team leader and mentor
Eric Sandosham, Founder & Partner, Red & White Consulting Partners, and former Managing Director and Head of Decision Management at Citibank
Deep Thomas, Data Analytics evangelist with leadership roles at Aditya Birla Group, Tata Group, and Citigroup
Theresa Kushner, a partner at the consulting firm Business Data Leadership, B2B Data and Data-Driven Marketing expert with a history of senior roles at Dell, VMware, Cisco, and IBM. Published author of several practitioner books on data management
David Bradley, founder of the Bradley Business Group, best-selling author, and Digital Marketing expert
Reactions of the Award Winners at the Ceremony:
Beth Comstock
"Thank you very much; I appreciate the honor and recognition! I think it's really important to create recognition and I'm cheering you [Analytics Hall of Fame] on!"
V. Kumar
"It's a great honor to be inducted into the inaugural Analytics Hall of Fame! The Analytics Hall of Fame is taking on an important role and is to be commended."
Tom Davenport
"It's a great privilege and honor to be among the early inductees. It's a very impressive group that you've assembled for this event. I just think of myself as writing about the heroic activities of practicing managers, and I appreciate being recognized for that."
Bill Franks
"It's an honor to be part of this organization."
Vishal Kumar
"I always say that Analytics is about people, so the Analytics Hall of Fame has an important role and is long overdue."
Heather Wilson
"15 years ago, we didn't have these practitioners called Chief Data Officer or Chief Analytics Officer. The financial crisis birthed all of this and even the digitization that is going on now. As a practitioner, I've enjoyed seeing the impact of analytics on healthcare, insurance, and banking, and now retail."
Randy Bean
"My role has been popularizing the work of others through the real expert; thank you for this recognition."
Theresa Kushner
"Very nice to be included amongst this list of Incredible People."
"I was thrilled with the support we received from those we consider to be superstars in the analytics and digital arena. With the support of these inductees I am hopeful the Analytics Hall of Fame can build a strong membership base and powerful community," said Dr. Branda.
The Analytics Hall of Fame serves as a valuable digital destination for all things analytic:
Practitioner recognition of outstanding performance by those in analytics – both professionals and academics - across specific categories, geographies, and business type. A distinguished panel of recognized analytic experts will judge candidate submissions, with awards announced quarterly as well as an annual live ceremony to recognize the best of the best.
Peer recognition awards provide valuable validation by analytic colleagues. It serves to help members advance their careers through the credentialing that an Analytics Hall of Fame award confers.
Company recognition for those organizations seen as best places to work for analytics and digital professionals. Analytics Hall of Fame Company sponsorships signal to the community the high value and commitment made by senior executives to the use of data science, digital analytics, machine learning, and AI in the management of their companies.
The networking portal is designed as a hub and information exchange forum for analytics professionals to discuss topics of interest, share best-demonstrated practices, solicit help, and foster professional relationships.
The Analytics Health Check provides AI validation and analytics monitoring designed to help C-suite and board members achieve payback from analytics while ensuring privacy and ethical standards.
Our recruiting portal is a source of outstanding talent. Our founder and judges alone have a combined network of 20k+professionals.
Membership is open to all professionals who work in the following disciplines:

Analytics (Insights, AI, Data Science)
Business Intelligence and Big Data
CRM (Mar-tech, Sales, and Marketing Automation)
Digital Marketing and Analytics (Social Intelligence)
Research (Marketing, Market, and Competitive Intelligence)
Awards are offered in these five categories, as well as Global, Country, and Industry leadership. A panel of expert Judges evaluates submissions from both the professional and academic communities. Judges for the 2019 – 2020 term include:
Dr. Tony Branda, Founder - Analytics Hall of Fame; former CAO at Citi and RBS and Professor Digital Marketing and Analytics at Pace University Lubin Graduate School of Business
Dawn Donnelly, Awards Judge; a Senior leader in Analytics at Walmart
Dr. Kevin Kramer, Awards Judge; former C-Level leader of Analytics Aetna, Bank of America
George Ling, Awards Judge; consultant to top banks in analytics and marketing
Jim Sterne, Awards Judge; best-selling author of digital marketing books
Mark Weber, Awards Judge; former head of market research at Bank of America
We are now accepting award nominations for the second quarter so if you are interested in nominating yourself or others for an award please visit:
https://analyticshalloffame.com/nominate/
To learn more about our valuable membership options or to join today please visit:
https://analyticshalloffame.com/memberships/
To build your company's analytics and digital brand through sponsoring our community today, please visit:
https://analyticshalloffame.com/sponsorship/
Analytics Hall of Fame Social Media Links
https://www.facebook.com/analyticshalloffame
https://www.linkedin.com/company/analyticshalloffame-com/
https://twitter.com/AnalyticsFame
https://www.instagram.com/analyticshalloffame/