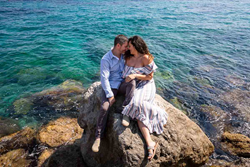 Finding professional lifestyle photography in Italy has never been any easier!
ROME (PRWEB) January 10, 2020
The Andrea Matone photography studio has produced over the last decade thousands of unique and creative couple photographs which range from engagement sessions to full day weddings passing through surprise wedding proposals in Rome Italy. After an initial test period in the latter part of 2019, the studio is now opening the 2020 lifestyle and wedding photography season to offer its services in central Italy. From Amalfi coast surprise proposal photography to unique and creative wedding photography services in Tuscany.
As per all these photoshoots already available in Rome since launch back in 2005. The user will be able to access the online price and reservation page, a state of the art booking system which can easily and quickly produce a precise online price quotation to match any custom made photo shoot need. Let this be an engagement session or setting up a surprise wedding proposal. With all the associated pre planning services to organizing a full fledged wedding day. Offering both photography and videography with a wide range of post processing options.
You will also be able to select different photo retouching options. Tapping from the unique studio +Photo Retouching techniques included in all sessions and exclusive to the Andrea Matone photography studio. A system which has been studied to provide the best possible post processing touch up and continuously updated to the latest trends in post production processing. With the ever so popular black and white conversion: offering a stylish antique look to your modern moments! Blog gallery insertions which are great to share photos with friends and family. Image Exclusivity if you care for the utmost privacy of your moments. Retrieve RAW picture file option to store away the digital file equivalent of the film negative. And finally if you wish to include the widest possible picture selection, retrieve all JPG photo files option to not to miss a single moment. And for those that wish to receive the pictures right away after the session, the Expedient Image delivery option which allows you to receive 5 images in low resolution right then and there within day's end of your photo session. And everything perfectly touched up within 2 weeks if not earlier.
"We are thrilled and excited to launch the new 2020 lifestyle photography season. And to open it up to such wonderful new locations such as the Amalfi coast and Tuscany. With an eye out to include Venice in the near future." said founder photographer in Rome Andrea Matone.
Great interdisciplinary team work is needed to achieve great results. This includes the joint efforts of car drivers, makeup artists, celebrants, photographers, musicians, videographers and photo retouchers.
"Once we pick up a job, we strive to achieve the best possible imagery for our clients. This does not just include the photography or videography but the whole team as a whole. Closing the session with the image post processing!" Said surprise proposal and lifestyle photographer Gabriele.
For more information please visit the Andrea Matone photographer studio.