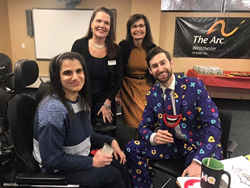 WESTCHESTER COUNTY, N.Y. (PRWEB) February 06, 2019
The Arc Westchester supports individuals with intellectual and developmental disabilities in many ways, including helping them build deep connections with people and organizations in their community. Recently, the hard work of one young woman inspired two individuals with County roots to give back to a local organization helping families in times of need.
Samantha Makris, who lives in one of The Arc Westchester's group homes, serves as the official Arc Westchester Ambassador for the Ronald McDonald House of the Greater Hudson Valley. In this volunteer role, she promotes the House's Pull Tab Collection Program. Aluminum pull tabs are collected by the House and brought to a local recycling center where they are melted down and exchanged for money. These funds help offset the House's expenses.
Scott Rogowsky, comedian and host of the popular HQ Trivia app, began corresponding with Samantha online several months ago. Inspired by her story and work with the Ronald McDonald House, Rogowsky, who grew up in Harrison, made a surprise visit to The Arc Westchester on February 1, with pull tabs in tow, to meet Samantha and her friends, and learn more about the organization's work.
Makris' work also inspired local artist Jeffrey Schrier, whom she first met when he assisted Arc Westchester participants in an art project. During his visit, Schrier spoke about his artwork built out of aluminum can tabs, and Makris decided to donate four pounds of tabs to him to make a piece.
When he learned about her work with the Ronald McDonald House, Schrier donated pull tabs he was no longer using to the organization in Makris' name. He joined her and Ronald McDonald House staff at The Arc Westchester's offices in January to present a $500 check for the tabs donated.
"Samantha is truly dedicated to her work with the Ronald McDonald House, and inspires all of us throughout the organization, as well as individuals in the community, to give back," said Tibisay (Tibi) Guzmán, executive director and CEO of The Arc Westchester. "Our volunteer program is a pillar of our work, and we are thrilled that Scott and Jeffrey recognized its importance."
For more information on The Arc Westchester's volunteer program, visit http://www.arcwestchester.org.
The Arc Westchester
The Arc Westchester, founded in 1949, is the largest agency in Westchester County supporting children, teens and adults with intellectual and developmental disabilities, including individuals on the autism spectrum, and their families. The organization's 850 employees provide more than 2,000 individuals throughout the county with a broad range of innovative and effective programs and services designed to foster independence, productivity and participation in community life.
The mission of The Arc Westchester is to empower children, teens and adults with intellectual and developmental disabilities, including individuals on the autism spectrum, to achieve their potential by strengthening families and encouraging personal choices, abilities and interests.
The Arc Westchester is a chapter of The Arc USA and The Arc New York.