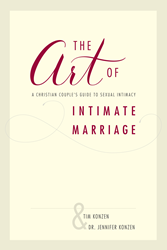 "Though many of the Bible verses on sexuality are about the many different ways people can sin sexually, for a married couple, the Bible shows us how to honor one another in the sexual relationship and how to enjoy the intoxicating pleasure of sexual intimacy."
LOS ANGELES and NEW YORK (PRWEB) January 08, 2019
In The Art of Intimate Marriage: A Christian Couple's Guide to Sexual Intimacy, Dr. Jennifer Konzen and Tim Konzen enumerated some issues challenging young people—particularly from Christian family members and authority figures—from the onset of physical and sexual developments during adolescence, all the way to adulthood. Because of the stigma and misconceptions that they hear throughout their youth, they struggle with understanding or even accepting their sexuality. The authors then provide ways that spouses can practice being more communicative and open about their sexual identity as a way to strengthen their relationship with each other and with God.
Humans are—for lack of a better term—sexual beings. The Art of Intimate Marriage explains how the lack of communication and open-mindedness about one's body and sexuality can hinder a person from connecting with their husband or wife in a more emotional way. Readers are then urged to engage in exercises by answering questions to examine how events in their childhood and adolescence may have influenced their view on sexuality.
After establishing a person's sexual background to help them come to terms with their identity, the authors then covered how the talk of sexuality can bring God into the picture. They explain through parts of the Scripture that God communicates with us in every area of our lives, sex included. A person does not have to disregard God and Jesus in the middle of sex to bask in the experience of full, sensual enjoyment during physical intimacy.
According to the authors, "Though many of the Bible verses on sexuality are about the many different ways people can sin sexually, for a married couple, the Bible shows us how to honor one another in the sexual relationship and how to enjoy the intoxicating pleasure of sexual intimacy."
Dr. Jennifer Konzen is an award-winning researcher, international speaker, and adjunct professor at Alliant International University, San Diego and Bethel Seminary, San Diego. Other than The Art of Intimate Marriage, she also wrote The Art of Intimate Marriage and Redeemed Sexuality and Graduated Intimacy: A Guided Intervention for Increasing Sexual Intimacy in Marriage. After earning her doctorate of psychology in marriage and family therapy, Jennifer became a licensed marriage and family therapist and a certified sex therapist. She works with couples, individuals, and families who come to see her to discuss sexuality.