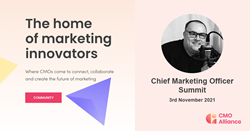 DUBLIN (PRWEB) November 03, 2021
Vistatec CMO Simon Hodgkins discusses storytelling and keeping customers engaged at the CMO Alliance Chief Marketing Officer Summit event on November 3, 2021. Vistatec is a leading global content solutions provider, HQ in Europe, with operations worldwide. Joining Simon in conversation is - Gastón Tourn, CMO of Appear Here, the world's leading marketplace for retail space.
Gastón was previously the CMO at Badoo (now Bumble), one of the largest dating app groups, and Emma, a leading sleep tech player that became the fastest-growing startup in Europe. Gastón has held positions at Google across several international markets.
Topics include what do we mean when we say "The Art of Storytelling?" Is it art, science, a set formula or a combination of all of these areas? Simon and Gastón discuss real-world examples, including several successful storytelling campaigns.
During the event, the speakers explain how many global brands must successfully communicate into many sectors internationally while touching on other important factors.
With social media in overdrive, the world of NFT's, decentralized finance and the initial steps into the metaverse, this event explores how vital storytelling will be as the landscape develops.
About Vistatec
Vistatec has been supporting some of the world's most iconic brands to optimize their global commercial potential since 1997. Vistatec is one of the world's leading localization and content solutions providers headquartered in Dublin, Ireland, with operations worldwide.
https://vistatec.com
About CMO Alliance
The CMO Alliance is a collective of passionate Chief Marketing Officers worldwide. CMOs are integral to the success of organizations, large and small. They are at the centre of strategy, execution, and growth.
https://cmoalliance.io
About Appear Here
Appear Here is the leading global marketplace for short-term retail space. It connects brands, retailers, designers and entrepreneurs with available space seamlessly online. Appear Here has become the go-to destination to make creative retail ideas happen. Thousands of major brands like Supreme, Loewe, Coca-Cola, Net-a-Porter and Kanye West, as well as independents and entrepreneurs, use Appear Here.
https://www.appearhere.co.uk