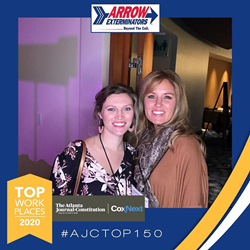 "During my time at Incentive Solutions, I've had access to the training, certifications, and support I needed to take my career to the next level, and it's unbelievably rewarding to be able to carry that forward." – Nichole Gunn, Vice President of Marketing and Creative Services, Incentive Solution
ATLANTA (PRWEB) March 03, 2020
Incentive Solutions emerged from nearly 3,000 nominees from the Atlanta metro to claim its place in the Top Workplaces 2020 by the Atlanta Journal-Constitution. Its first year on the list, Incentive Solutions placed in the Top 150. On February 26th, 2020, Incentive Solutions joined companies like Salesforce and Sprint to celebrate their award in the Oceans Ballroom at the Georgia Aquarium.
"Incentive Solutions is a small and growing company, so receiving this type of recognition is a huge honor for us," said Daley Webb, Art Director at Incentive Solutions. "The Georgia Aquarium was the perfect backdrop for a night dedicated to celebrating Atlanta business."
Incentive Solutions and the other companies in the Atlanta Journal-Constitution's Top Workplaces 2020 were chosen for the award based solely on employee feedback gathered through a third-party survey administered by employee engagement technology partner Energage, LLC. The anonymous survey uniquely measured 15 drivers of engaged cultures that are critical to the success of any organization: including alignment, execution, and connection, just to name a few.
"When you think about what Incentive Solutions stands for," said Nichole Gunn, Vice President of Marketing and Creative Services, "we've always been all about growth. I know during my time at Incentive Solutions, I've had access to the training, certifications, and support I needed to take my career to the next level, and it's been unbelievably rewarding to be able to carry that forward. After all, how can we promise to increase motivation and build loyalty for our clients' customers and employees if we don't take care of our own?"
In addition to using the same employee recognition platform and reward catalog it offers its clients, Incentive Solutions provides its employees with extremely generous and well-funded healthcare coverage and competitive PTO (starting at 16 days for new hires, with additional PTO for volunteering in community outreaches). All employees are eligible for a matching 401K plan, profit-sharing, and gym membership reimbursement. In addition, employees are able to work flex hours and are eligible for remote workdays to ease the strain of Atlanta commutes.
Earlier in the year, Incentive Solutions was named Atlanta's 2019 Best and Brightest Companies to Work For® by The National Association for Business Resources (NABR) for the 7th consecutive year.
You can view the full list of the Top Workplaces 2020 by the Atlanta Journal-Constitution here.
About Incentive Solutions
Founded in Atlanta, GA in 1994, Incentive Solutions is on a mission: "To inspire growth – for our clients and our employees." A leader in the incentive technology development space, Incentive Solutions uses millions of exciting online rewards, incentive travel promotions, gift card incentives, and innovative platforms to help manufacturers and distributors increase sales, capture mindshare, build customer loyalty, and improve data collection throughout their channel. For more information, visit http://www.incentivesolutions.com.
About Energage
Energage, a certified B-corporation, offers web-based solutions and advisory services that help organizations recruit and retain the right talent. Home of Top Workplaces research, Energage offers solutions that collect, understand and amplify the voice of the employee, enabling organizations to reduce unwanted turnover, lower recruiting costs and increase retention. Based on more than 13 years of culture research, advanced comparative analytics, and patented algorithms trained on more than 20 million employees at 58,000 companies, Energage has isolated the 15 drivers of engaged cultures that are critical to the success of any organization. For more information, please visit energage.com.