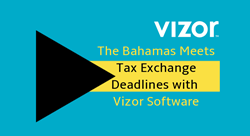 Vizor committed all of their resources to ensure we met the deadline, including sending technical advisors from Ireland to The Bahamas.
DUBLIN (PRWEB) November 22, 2018
Today, Vizor Software announced that the Government of The Bahamas met the September 30th deadline to begin automatic exchange of tax information (AEOI) with 35 partner jurisdictions, thus meeting the county's OECD Common Reporting Standard (CRS) commitments for AEOI. The integrated reporting application from Vizor includes an online portal where Bahamian financial institutions (FIs) submit compliance data.
"We worked diligently with Vizor to iron out the various challenges," commented K. Peter Turnquest, Deputy Prime Minister. "They committed all of their resources to ensure we met the deadline, including sending technical advisors from Ireland to The Bahamas. The co-operation of all our financial institutions is also commendable; their co-operation and commitment to fulfilling their reporting obligations speaks volumes about the high standards we maintain in the jurisdiction."
The Ministry of Finance selected Vizor earlier this year for its CRS obligations and to replace its existing FATCA solution. The successful project has resulted in an integrated system to submit and process tax compliance data, supporting all of The Bahamas' AEOI needs.
"We were delighted to work with the experienced exchange of information team in The Bahamas", commented Conor Crowley, CEO, Vizor. "This successful project showcases the opportunity for Competent Authorities to deliver greater efficiency and customer satisfaction by upgrading to a Vizor solution."
To learn more about Vizor AEOI and how this out-of-the-box solution can simplify FATCA, CRS and BEPS information exchange for Tax Authorities, please visit the Vizor website.
For more information on the Ministry of Finance, Government of The Bahamas visit: http://www.taxreporting.finance.gov.bs/
About Vizor
Vizor Software is the global leader in cross-border information exchange solutions for Tax Authorities with over 15 jurisdictions having already implemented our solution to facilitate either CRS and FATCA exchanges or both. With our expertise in AEOI standards, we ensure Tax Authorities can meet all their international commitments for CRS, FATCA and information sharing requirements under the BEPS package. Our proven software platform can be implemented in as little as five weeks and is continuously upgraded to ensure compliance with any future changes to the standards. The extensive validation of all submitted data greatly reduces the administrative burden and risk for the Competent Authority. You can learn more at vizorsoftware.com or by following Vizor on Twitter and LinkedIn.